In 2018, Legislation that would allow citizens of Ireland to take up any unused E-3 visas was unanimously passed by the United States House of Representatives. However, it failed by only one vote in the Senate. In 2019 the Legislation was reintroduced as H.R. 2877
When this Legislation becomes law, it will be a major blow to any E-3 Hopeful Australian considering a career move to the United States.
Pundits argue that the legislation preserves the annual 10,500 E-3 visas for Australians, therefore there is no downside to Aussies. However, a deeper analysis of Immigration data reveals that like Neanderthal, the Australian E-3 Hopeful may be facing extinction, displaced by a more sophisticated species who is better adapted to finding work.
The Inconvenient Truth
For some years, The Australian Community has published articles containing Immigration data from the U.S. Departments of Homeland Security, and State. What is indisputable is the data showed that 5,657 new E-3 visas were picked up by Australians in 2017, but only 5,394 were used in 2018. If H.R. 7164 had passed in 2018, 5,106 E-3 visas would now be available to citizens of Ireland.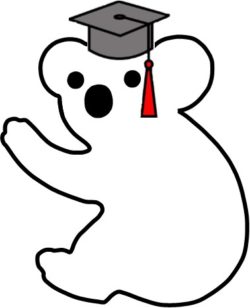 The reality is that albeit Australians are guaranteed 10,500 visas each year, Australians have no guarantee of finding work.
In a market where there are a finite number of jobs for non-U.S. citizens, the better equipped the job seeker, the more likely she or he will find work.
Many who purport that making citizens of Ireland eligible for the E-3 visa will have little or no impact on Australians, overlook the fact that there will be an estimated 20,000 new Irish job seekers entering the market. Those new job seekers, armed with an E-3 visa, will be competing against Australians for a finite pool of non-U.S. Citizen jobs.
Given a return trip Dublin to NYC costs around $300, the Irish have better Alumni networks and a more established community, Australian E-3 Hopefuls who travel to the U.S. will now experience more competition for jobs from thousands of better equipped, Irish E-3 Hopefuls.
Further, Australians on existing E-3s will have less opportunity to change roles. Australians will no longer have a unique competitive edge in claiming to an employer that they can be back in the U.S. in less than three weeks with a work visa after an offer of employment.
It has been widely reported that the E-3 visa was, in part, a thank you to Australia for a century of unwavering military support for the United States. Members of The Australian Community with whom we have spoken about this Legislation have expressed less than favorable feedback: The polite consensus being that 100 years of Mateship and $4.50 will get you a flat white.
The bottom line is that an abundance of E-3 visas does not correlate to an abundance of jobs for Australians. The data projects that by 2025, less than 2,500 E-3 visas will go to Australians and more than 8,000 E-3 visas will be taken by Irish citizens. We will see the number of Australians on E-3s further decrease YoY as Australians simply give up their dream of working in the United States, unable to compete for jobs.
The Numbers
The J-1 and J-2 visas are a student work visa. Using J visas as a basis of an apples to apples comparison, it is clear that there are far more Irish students coming to, and finding work in the U.S. than Australians. Given the population of Ireland is approximately one fifth of Australia (4.8 million vs 24.8 million) the gap widens astronomically on a per capita basis.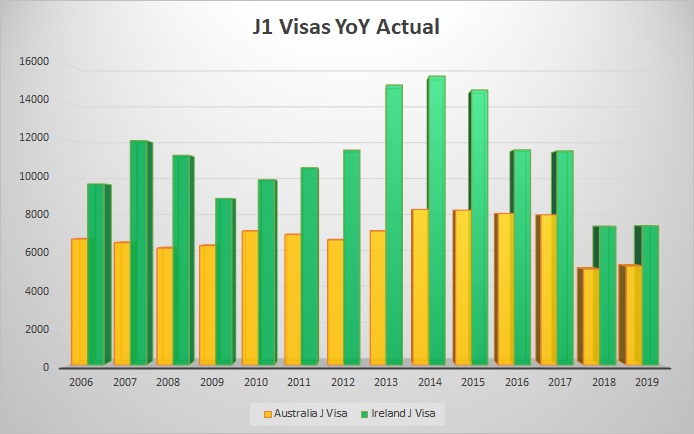 Given there is a large percentage of Australian students on J visas applying for E-3 visas, there would also be a strong demand for Irish J visas holders looking to move to an E-3 visa under the new legislation.
With an equally strong demand from qualified professional Irish workers unable to secure H-1B visas, we could see north of 20,000 new E-3 Hopeful Irish competing for the c.5,000 E-3 visas available to Irish citizens under the Legislation.
Clearly the Irish community is well organized in assisting its citizens find work. Therefore, it does not require a leap of faith to see that any unused E-3 visas would be quickly snapped up, with thousands more Irish job seekers on the sideline.
The Australian Community Fights Back
The Australian Community sees a straightforward solution: The closer Australia is to the 10,500 E-3 annual limit, there will be fewer E-3 visas available to any other country looking to get on the E-3 bandwagon. The I-94 data tells us that at any time there are significantly more than 10,500 Australians in the U.S. who qualify for an E-3, we just have to make them better at finding work.
In response to the proposed changes to the E-3 visa, late in 2018 The Australian Community upgraded The Community Job Fair from v1.0 to v2.5. This program proactively connects Australian job seekers with Australian Friendly recruiters and employers, provides guidance on finding work, and has been expanded to include rich media offering Immigration advice. At the heart of The Community Job Fair is our Employment Group inside our Yammer private network.
Further, our book Moving to the US for Aussies has had tens of thousands of downloads. It provides prescriptive guidance on overcoming the challenges of living and working in the U.S., including how to find work. Chapter 17 contains a video from an Immigration attorney explaining the E-3 visa to a prospective employer.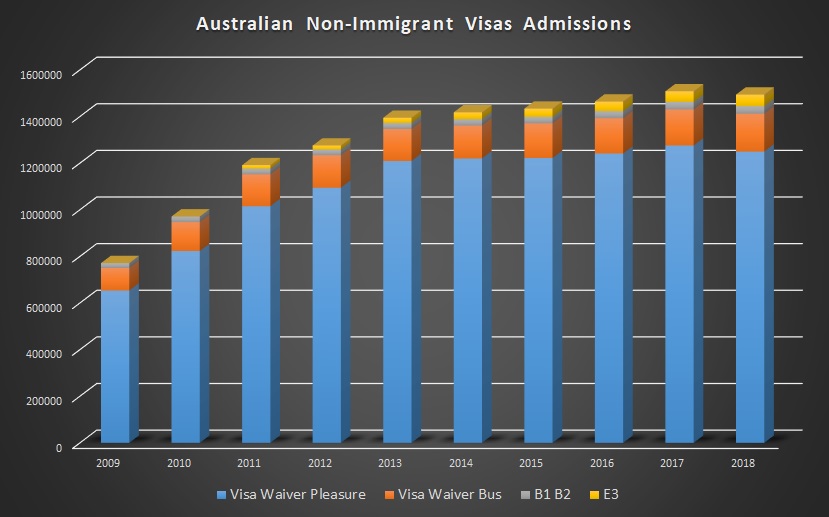 Since Community Job Fair v2.5 was introduced, The Australian dollar has fallen further from 72c to 68c, and other headwinds including changes to Australian Capital Gains Tax has negatively impacted more and more Expat Australians.
U.S. unemployment has only fallen 0.4% from 4.0% in January to 3.6% in October, yet in spite of fewer Australians on Visa Waivers entering the U.S. (as you would expect), the number of Australians successfully applying for an E-3 in 2019 has increased c.8.5%!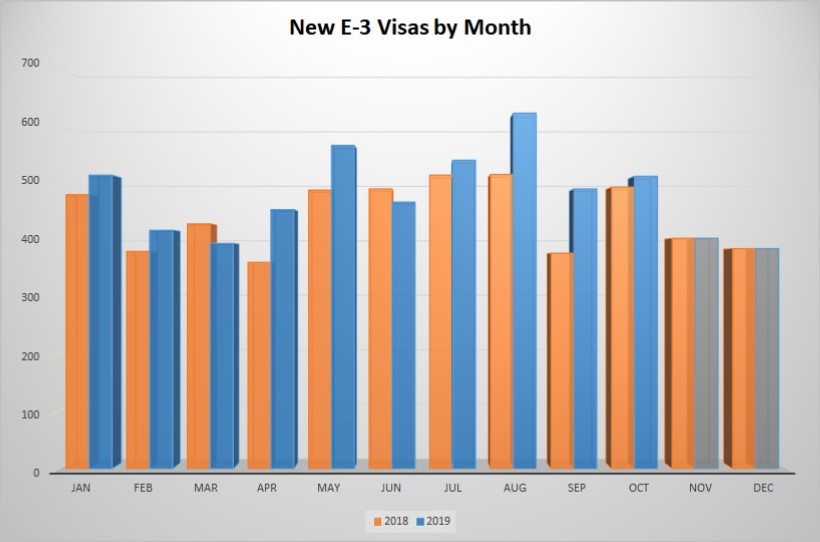 Much of the increase can be attributed to our Community Job Fair programs as The Australian Community is the only Australian organization proactively providing prescriptive guidance for Australians to find work on a National level. Currently we are on track for c.5,750 E-3 visas in 2019, but more needs to done to add another 4,500 Australians on E-3 visas over the next two years.
Community Job Fair v3.0
The Australian Community is a 501(c)(3) public charity. It is also a 100% volunteer organization. If we can have a positive impact on Australians finding work on a volunteer basis, we would have significantly more impact with dedicated resources working part and full time on saving the E-3.
We have requested financial assistance from The Australian Government for this program which will assist the existing c.45,000 Australian voters and their spouses in the U.S. on the E-3 visa, and thousands of others who are applying, but our request was rejected without explanation.
We are therefore turning to our Membership and the broader Australian Community in the United States for assistance to fund Community Job Fair v3.0.
The vision for The Australian Community Job Fair v3.0 would include the following services.
Leverage the exiting infrastructure and content of the Employment Group inside our private social network, which can support more than 250,000 users.
The expanded content would include videos, articles and best practices from Subject Matter Experts on finding work, broken down by Industry/Location.
Host (and record) monthly meetings where job seekers can access Subject Matter Experts, and share their personal experiences, wins and challenges with other Australians. Recordings would be shared to the Employment Group for those who cannot attend.
Provide additional resources such as job search, resume writing, and interview best practices to assist members in finding work.
Leverage our Accommodation Group inside our private network to better connect members to professional Australians during their U.S. job transition.
Reintroduce push notifications to external and internal recruiters when Australian candidates meet their criteria.
Identify and leverage Australian innovation in the H.R. industry.
Identify and meet with more Australian Friendly recruiters, and Human Resources personnel within U.S. corporations who have Australian employees, to have them participate directly in our Community Job Fair by posting positions.
Identify and meet with members holding executive positions within Fortune 500 companies to sponsor meetings with internal recruiters and H.R. executives to pitch the quality of available Australian candidates with immediate work visas.
Meet with Australian Alumni organizations in the U.S. to communicate the value proposition of working with The Australian Community to assist their Alums find work.
Initially work with the c.400 Australian lawyers who are members of our organization to understand their pro-bono initiatives, and how to leverage those hours to assist our members.
Reach tens of thousands of Australians looking for work in the U.S. through to communicate the value proposition of joining the Australian Community's Job Fair.
and more.
Funding such a program would be a huge boost to the number of Australians finding work, and therefore the annual number of E-3 visas consumed by Australians. Unfortunately the clock is ticking and there is a short window of opportunity to have this program fully up and running with dedicated staff.
What YOU can do to help!
There are few causes in 2020 that are more relevant to Australian seeking a career in the U.S., than saving the E-3 visa. In the absence of support from the Australian Government, here are just a few ways in which you can support The Australian Community in its charitable Mission:
Join The Australian Community: Even if you feel that there is nothing you can learn, your knowledge is highly valuable to other Australians. Membership is only $45 annually and your membership fee is fully tax-deductible.
Make a tax-deductible donation: Your financial support will go to financing Community Job Fair v3.0 and saving the E-3 visa in 2020.
Become a Sponsor: Gain valuable visibility with thousands of Australians for your product or service, and build brand loyalty as a supporter of fellow Australians.
Recruiters and Human Resources Professionals: Contribute your assistance and Thought Leadership to our Mentoring and Employment groups.
Share your company's job postings to our Employment group. Companies can always do with another Australian contributing to the team.
Meet for coffee: If a member of The Australian Community reaches out to better understand "the corporate culture" of your company, make a few minutes to meet and chat.
Support our #OzDayNYC Black Tie Gala: Corporate Tables are now selling and funds raised will go to fund our Community Job Fair. You can also donate an item to the #OzDayNYC Charity Auction.
Purchase tickets to #OzDayNYC: When you purchase an individual ticket, or a table of 10 friends, you will be assured a great evening of entertainment and making new connections, as well as supporting our charitable mission.
Click here to make a tax-deductible donation to The Australian Community.
Click here to Join The Australian Community
Click here to learn more about Corporate Sponsorships
Click here to learn more about #OzDayNYC 2020
About The Australian Community
The Australian Community is a 501(c)(3) Public Charity and its Mission is to connect Australian living in the United States through social. professional and charitable initiatives.
All contributions are fully tax deductible under Section 170 of the IRS Code. The Australian Community is also qualified to receive tax deductible bequests, devises, transfers or gifts under section 2055, 2106 or 2522 of the Code.