In 2020, Bill H.R. 2877 was unanimously passed by the House of Representatives. It made it to the floor of the Senate, however, a lone Senator held out. In doing so, he dashed the hopes of millions of Irish nationals hoping to get access to thousands of E3 visas that go unused each year. 
In 2022, it was reintroduced to the House of Representatives as H.R.8761, however, it did not make it to the Senate for a vote.
Given that Congress has had a full dance card since the proposed changes to the E3 Visa were last introduced, any further lobbying of Congress to include Irish nationals on the E3 Visa is on hold.
However, changes to the E3 Legislation will be re-introduced and inevitably pass both Houses in 2024. No party will risk a political backlash from Irish American voters in a Presidential election year.
At first glance, the proposed changes seem fair. The new Legislation still allows for 10,500 visas to be allocated to Australian nationals each year. Only the number of unused visas would be available to Irish nationals the following year.
However, when you analyze the data do you begin to fathom the potential negative impact on Australians and Australia as a Nation.
What is the E3 Visa?
The Australian Free Trade Agreement was signed into law on May 18, 2004. The E3 Visa was signed into law one year later by President George W. Bush on May 11, 2005. A crowning achievement of the Howard Government.
The E3 is similar in many ways to the H1B visa. However, only 65,000 new H1Bs are available to the world, and Australia is disproportionally allocated 10,500 E3 visas each year. Further, the E3 visa has particular advantages over other work visas. For example, spouses are allowed to work, and they do not need to be Australian. Moreover, the visa is renewable indefinitely. Also, the cost to the employer is di minimus, and the application process can take as little as two weeks.
As the 10,500 quota has never been reached, E3 visas are available all year. Premium Processing and other USCIS changes to the renewal process have made the E3 visa even more appealing. The E3 visa has been a catalyst for many Australians working in America and taking that experience back to Australia when they repatriate.
The advantages of the E3 visa over any other visa class are obvious and therefore envied by many nations. However, given Ireland is part of the E.U. and unable to lobby for its own Free Trade Agreement, its only option to access a favorable visa category is to use its influence (and constituents) to lobby Congress to change the E3 Legislation.
It is widely regarded that the E3 Visa was earned through the blood and sweat of Australian service men and women over seventy years of Military Mateship with the U.S. – especially during the Gulf Wars.
However, the proposed changes to the E3 Visa, which will inevitably disadvantage many Australians, could be perceived by some as a slap in the face given Australia's recent commitment to the AUKUS pact.
Will the Change be Disastrous for Australia?
Comparing the Australian and Irish J1 data pre-Pandemic, you begin to understand the potential impact. Ireland is less than a third of Australia's population. Yet the number of Irish graduates working on J1 visas in America is historically more than 1.5 times higher than Australians.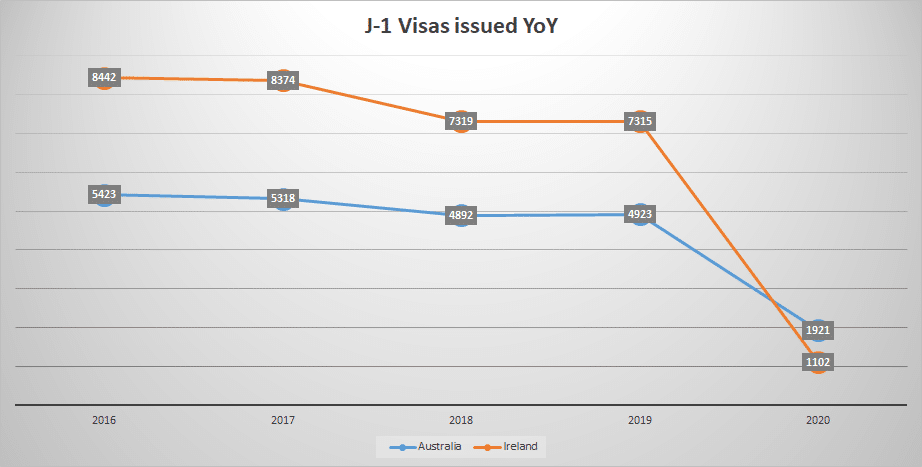 Suppose you apply this ratio to the E3. In that case, it is estimated that there could be as many as 20,000 new Irish job seekers entering the U.S. market: All pitching employers that they can be back from the U.S. Consulate in Dublin with an E3 visa in less than two weeks.
10,500 Visas and $5 will get you a Flat White in NYC!
The concession given to Australia for changing the E3 Legislation was a guarantee that 10,500 visas would still be available annually. However, an abundance of visas does not correlate to an abundance of jobs. There are only so many companies that will employ a foreign national over a U.S. citizen. Less since the "Buy American, Hire American" initiative was commenced under the previous Administration.
An abundance of visas does not correlate to an abundance of jobs.
Introduce 20,000 new job seekers into a finite employment pool (mostly in New York) and Australians are going to find significant competition when looking for a new role. As a result, many more Australians will return home empty-handed. Other Australians working in America will be forced into staying with their current employer. Perhaps missing out on new opportunities to further their career.
Fewer Australians repatriating with International work experience impedes Australian companies' ability to understand and compete in global markets.
Displacing Australians on the E3 Visa?
Given that a return ticket from Dublin to New York is around $400 and takes less than eight hours, Irish job seekers have immediate logistical and financial advantages over Australians in simply getting here. Further, the Irish Community has better-established professional, social, and Alumni networks than Australia. Combined, this makes them better adapted to finding work than Australians.
Evolution has repeatedly demonstrated that species better adapted to collaboratively hunt, quickly displace competing species, and rise to the top of the food chain.
Therefore, as more Irish nationals displace Australian job seekers each year, more visas will be available for them the following year. Within a few years, Irish Nationals could represent more than 60% of the total E3 visas issued!
COVID-19 Created Additional Headwinds for Australians.
When Australia was on lockdown during COVID-19, the impact on Australians wishing to travel to America can be seen in the graph below. Typically there were c.1.5 Million U.S. border crossings by Australian citizens pre-Pandemic. This number dropped to less than 50,000 in 2021!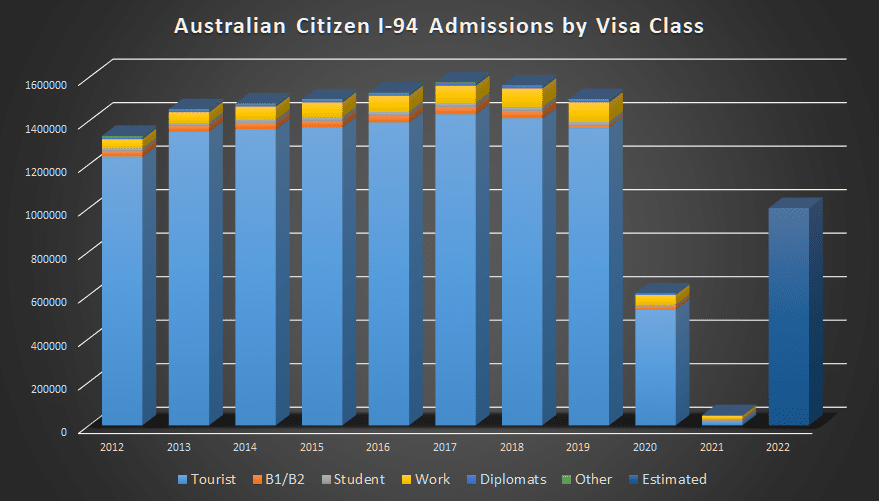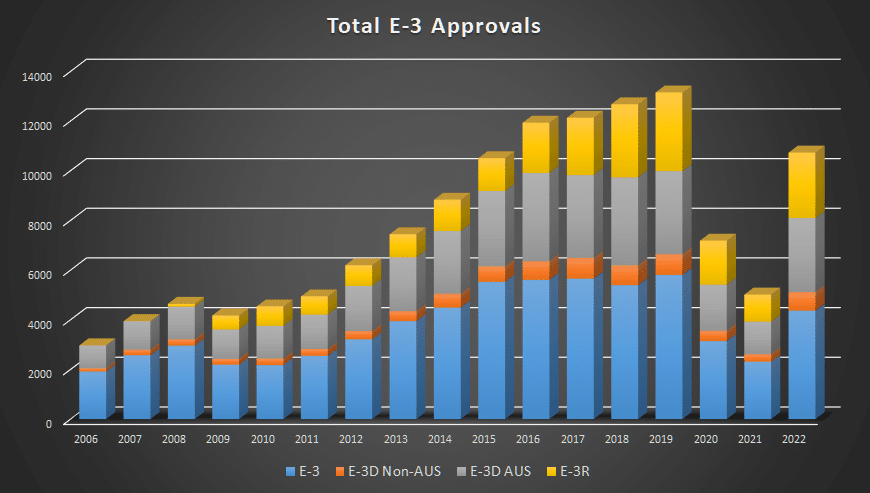 Given the travel restrictions imposed during the Pandemic and the slow reopening of U.S. Consulates that process E3 visas, new E3 visas grew to only 4,371 in 2022.
If the proposed legislation was now in effect, Irish Nationals would represent more than 50% of the total E3 visas issued in 2023!
A Done Deal?
Given the political landscape of the upcoming 2024 Presidential Election, neither party is going to alienate a significant voting block of Irish American citizens. Therefore changes to the Legislation are inevitable.
Given the Australian political landscape has had a tectonic shift with the election of a new Government, and a greater strategic reliance on the Land Down Under through AUKUS, perhaps there is an opportunity for Australia to revisit the negotiating table before the Legislation is introduced to the House Floor.
About The Australian Community
Founded in 2011, we connect more Australians in America.
If you are a professional Australian taking your career to the next level, or the U.S. is the next step in your company's global expansion, we can connect you to all of the resources you need for success in America.
---
Did you find this article helpful? Make a Donation!
The Australian Community is a 501(c)(3) organization and all donations are fully tax-deductible under the IRS Code.
---
Join The Australian Community.
Learn more about the benefits of joining The Australian Community in America.