Australian Community in America
Below are the Top 10 reasons why thousands of Australian E-Pats connect with The Australian Community in America.
Diving into the deepest end of the most shark-infested pool on the planet may be a risky decision when it comes to taking your career to the next level. However, without a professional or social lifeline, Australians living in America will face some serious challenges. Australian Community in America.
#10 We are a Non-Profit:
As a 501(c)(3) public charity, revenue is reinvested into funding our member programs, as well as social and professional events.
Individual membership is $45 per year, Spousal membership is $80 per year.
If you are interested in a Corporate Membership you can click here to learn more.
Many Australians connect with our organization to give back by sharing their knowledge and experience with other members.
If you are an Australian living in America, applying for membership is as simple as completing the form on this page! As we are a U.S. Public Charity, all donations are tax-deductible.
#9 Professional Connections:
With more than 6,000 Australian connections in the United States, our organization can introduce you to other Australians who are important to growing your business, or who can assist with advancing your career. Australian Community in USA.
#8 Professional Events:
Let's be real, we did not move to the U.S. for the bagels. Most Australians are here to challenge themselves and see how well they compete in one of the world's toughest markets.
As a member, you always receive invitations to special events through our private network, before they are announced through our public social media. Further members receive complimentary access to events that non-members pay to attend.
#7 Charity may begin at home, but we live in America:
Australians have a great sense of community, so helping others is hard-wired into our DNA. With a growing population in cities around the U.S., Australians need to demonstrate that we are giving back to our local communities.
Our charitable initiatives highlight the philanthropic nature of Australians.
Aggregating and highlighting the philanthropic efforts of Australians to demonstrate that our members care, and are contributing to the broader U.S. community is a major initiative of our charitable mission.
#6 Access to Member Programs:
The real value of membership to an Ex-pat organization is rarely measured in dollars and cents. However, not only does The Australian Community provide soft value through social and professional connections, but access to a suite of products and services offered by our Corporate Members.
Our members can now register through a special link and access a preferred rate on their international wire transfers! This is a much deeper discount than OFX's standard rate, and it is one of the best rates available in the market.
It is also saving members thousands of dollars each year on personal and business money transfers over other FOREX services.
For those looking to travel to Hawaii, Hawaiian Airlines is offering a 5% discount to our members on travel to and from Australia via Hawaii, direct from JFK, as well as flights from other US cities. Australian Community in America.
Other member discounts are offered through our Private Network.
#5 Video Production Services:
Members can promote their personal or corporate Brand through corporate interviews featured on our website. Reach potential customers in the Australian community in America or share your video or article through your social channels.
Special "Mates Rates" are available to our membership.
#4 Access to our Private Yammer Social Network:
Our private Yammer Enterprise Social Network is unifying and delivering collaboration tools to better connect our members. To connect with our private network and knowledge base covering Accounting to Visas, you must first join The Australian Community.
Unlike LinkedIn or Facebook, Yammer protects our members' privacy by keeping all personal information and conversations out of public view.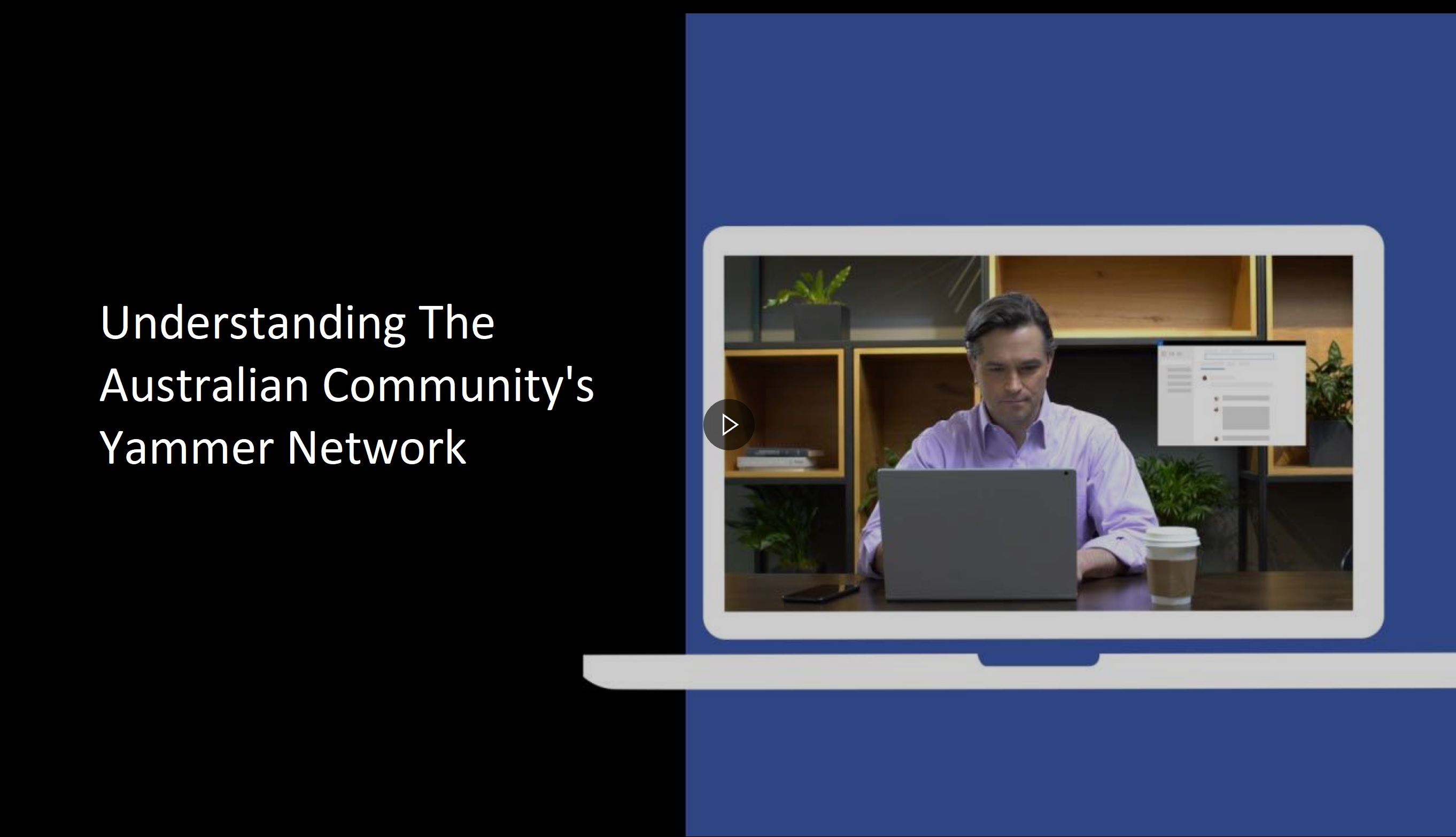 For many members who do not subscribe to social media, Yammer provides an effective, non-invasive, private collaborative environment, free of spam where your personal information always remains private.
For those Australians who are new to the job hunt in the U.S., simple mistakes such as a multi-page Resume, or an out-of-date LinkedIn profile can negatively impact your chances of finding work.
Further, understanding the interview process and how to connect with Australian Friendly Recruiters in your city are two keys to success. The Australian Community provides important guidance as well as connections to recruiters in major industries including Marketing, Legal, Tech, Accounting, Management Consulting, and Finance through our Employment group.
Many of our members are already working. However, an essential component to climbing the corporate ladder is understanding the complexities of local work culture.
#2 Quick Access to US Credit:
Access to credit in the U.S. has been the #1 challenge for Australians living in the USA. It comes as a major surprise to Australians to learn that no credit score is almost the same as a bad credit score!
Through our corporate relationship with Nova Credit, our members now have access to U.S. credit based on their Australian credit history.
This member program has been expanded to include Home Mortgages in Australia. You can click here now to learn more and be connected with an Ex-Pat Mortgage Broker who will contact you to explain Odin Mortgage & Tax Ex-pat services.
New York has a long history of nationalities banding together to overcome social and professional challenges. In part, The Australian Community performs this function.
By supporting The Australian Community through membership, it ensures that we are able to continue providing services to Australians who moving to, or are living in the United States. You are welcome to explore our services, and you can use the form below to join The Australian Community.
After you submit the form below, you will be automatically redirected to our Store where you can purchase your membership using our secure online payment system.