Sleepless nights as an advertising executive would lead Brett Howlett not to the medicine cabinet but to founding his own company, You Are What You Sleep.
While Brett's e-commerce business model is thoroughly modern, the company has deep roots in Australia's heritage as a wool-growing nation.
Research showing that using wool bedding boosts the deep, health-regenerating stage of sleep by 25% inspired Brett to develop a range of bedding made in Australia from premium Australian wool.
With aromatherapy, massage and acupressure products as well, Brett's goal is to offer natural, sustainable ways to give people a better quality of sleep.
Where were you born?
I was born and raised in Melbourne, in Beaumaris, then went to Monash Uni.
How long have you been in New York?
I was in New York for 14 years but went back to Australia for a few years. I returned to New York at the start of 2016.
What did you do in Australia before coming to the US?
I was in advertising in Melbourne and then in Sydney.
What brought you to New York this time?
When I went back to Australia, I ran Ogilvy in Sydney, which was a ridiculously huge job that cured me of advertising and corporate anything for all time.
I said to my wife, "Look, I either try to reinvent myself somehow, or we go up to Byron Bay and I'll just work in a pub." And she said, "Let's go for the reinvention first."
Was there any culture shock going back to Australia?
Just before I went back, I went through three years of the crash here. I'd walked out of my job just before it happened, and it was really hard to get work.
I went back to Australia and I felt like, "Guys, you dodged a bullet. Why is everyone living in fear?" I was very happy to get back to New York.
What motivates you to get up in the morning?
Doing what I'm doing now. I love creating a product and a brand – a philosophy – that actually can help people. And I'm using everything I've known and everything I've done and learnt up till now – all of that, and then a bit of ingenuity and a lot of finger crossing – to do the things I had no idea about in the beginning.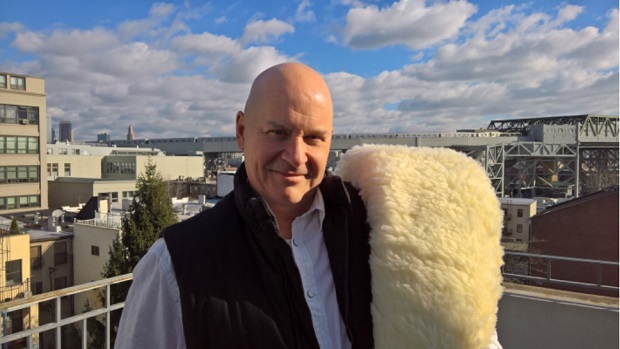 What challenges have you faced starting up a business here?
It's been a massive learning curve. Lots of things tripped me up here. I seem to have picked one of the harder home categories of products to sell.
There's the lack of knowledge for a start. If you don't know, then you probably don't know the questions to ask to find out. If you're dealing with any government institution it's the same all over the world: unless you ask a specific question, they will not say, "Oh, by the way, did you know . . ."
There were two big stumbling blocks: getting a fire safety certificate for the underlay. It has to be fire tested – that's a federal requirement. In the very beginning, I was told it was a state-by-state requirement, which is rubbish.
To pass the test, I had to make changes to the product. It passed, so that was one box checked. The next thing I found out in the middle of this was that wool has to be sterilized. I could not find someone who sterilizes Australian wool.
It was months of searching, until I found a New Zealand wool processor who uses Australian wool and has the sterilization permit because they heat their wool up as part of their process.
Manufacturing was held up waiting for those massive legal labels that are the same size as your bed. I was printing them here then sending them back to Australia to be sewn onto the product. So that was about 6 months of ridiculous toing and froing.
It was a mixture of not knowing and very little organization – no one could give me a proper answer here. It's one of those pain-in-the-bum things you just have to deal with, and you learn and then you move on and you do things differently.
What advice would you offer another Australian coming to the US?
Be very, very clear about your market, target, and competitors. Research, research, research! Get your marketing/brand story right – so many startups I see have awesome ideas and no marketing/brand thinking.
And don't bite off more than you can chew, you'll choke.
What's next for your business?
The products have now arrived from Australia, and the business model is to sell direct through the website, and at trunk shows or pop-up stores.
Eventually I want to get into infant bedding. It's been proven that an infant will cry less, fall asleep faster, stay asleep longer and put on weight faster on wool than on any other bedding.
For more information you can visit You are What You Sleep