Connect with our "Mates Rates" on Foreign Exchange
Members of The Australian Community transfer millions of dollars overseas every year for business and personal needs. Therefore, based on this volume, a preferred Australian currency exchange rate on International wire transfers has been negotiated with OFX on multiple currencies!
"If there is a better way to save money on Currency Exchange, we have not seen it!"
You can even use this service for your business to electronically transfer AU and US dollars to other currencies, including INR, EUR, CAD, Peso, etc.
Access our Preferred Exchange Rate!
1. Register with OFX
Use the above link to register and access The Australian Community's Preferred FOREX Rate with OFX. You can then start to save money on International wire transfers.
2. Send OFX your funds
OFX accepts bank transfers from your account (e.g., BPay, Electronic Bank Transfer).

However, cash, credit card, cheques, or bank drafts are not accepted.

OFX will notify you once they receive your funds.
3. OFX delivers the Funds
Transfers to most countries take
1-2 business days.
Most importantly, you can track your transfer online or with the OFX mobile app.
Foreign Exchange Rates (FOREX) can be confusing. There is the Interbank or Market Rate, and then there is the rate that your FOREX service offers you when you exchange money. Therefore, the less money you receive, the more the Banks and FOREX services charge you in fees, sometimes hidden in the exchange rate itself!
Currency Exchange Comparison.
Most importantly, we regularly compare The Australian Community's preferred rate on USD to AUD, with the leading online converter.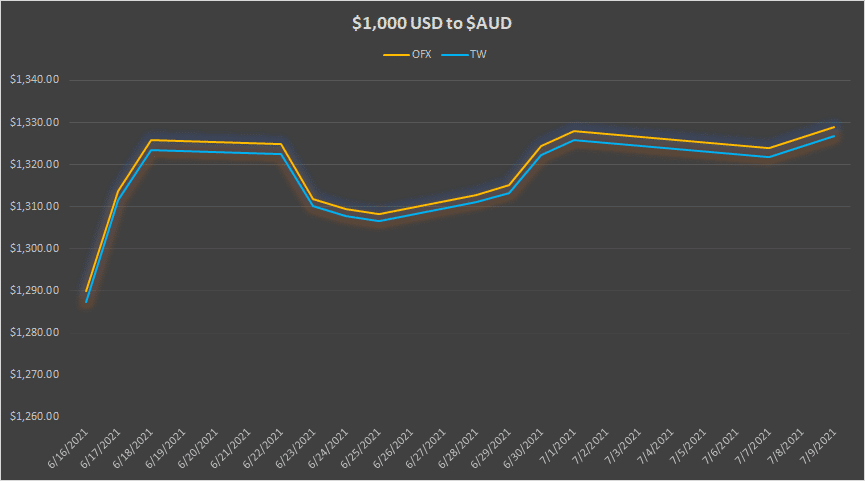 Every time, The Australian Community's preferred exchange rate was better. The savings are greater the more money you transfer!
Register (it's FREE), and you can access our preferred currency exchange rate. Then, find out how much money you could be saving on International money transfers!
I want to learn more before I register:
About The Australian Community
The Australian Community is a 501(c)(3) Public Charity. Its mission is to connect Australians living in the United States through professional, social, and charitable initiatives.