When COVID shut down U.S. Consulates in early 2020, it was a struggle for Australians to get an E3 visa appointment. Subsequently, when a U.S. Consulate opened up, a surge of appointment applications flooded in. Suddenly the wait for a visa at the newly opened Consulate would be up to six months!
It was a bit like your GPS telling you how to avoid an accident up ahead on the highway by taking a service road. Unfortunately, everyone with a GPS gets the same message and the service road is suddenly congested!
More U.S. Consulates Approving E3 Visas
Fortunately, over this past year, we have seen U.S. Consulates reopening. Therefore, more E3 visa appointment times have become available. In August of 2022, 583 E3 visas were approved which was the highest number since mid-2019.
The Australian Community has access to the latest consular data that shows where in the world E3 visas are being processed and gives you an understanding of which U.S. Consulate to look to for booking your next E3 visa appointment.
Knowing where E3 visas are being processed broadens your choices of where to go for your appointment.
September 2023 E3 Visa Consular Approvals.
As you scroll through the September 2023 data, there are some standouts:
Sydney was number #1, but down considerably from August with only 108 E3s, 98 E3Ds, and 76 E3Rs approved.
Melbourne was also down sharply and came in second with just 47, 48, and 35 respectively.
London was in perennial third place with 38, 24 and 59.
Perth was down from 13 E3s in August to just 7 in September
Bridgetown, processed 16 E3, 5 E3D, and 5 E3R visas.
Paris did not get a Guernsey, but we welcomed newcomers Surabaya and Windhoek to the list, each with one E3.
Special mention to the Aussie who travels to Kathmandu for his or her E3.
In all, only 283 new E3 visas were approved at U.S. consulates in September. This was a disappointing number as it is down 147 from last month.
E3 Visa Appointment Wait Times
As they say in Financial Service, "past performance is not indicative of future returns". For a full list of current U.S. Consulate visa appointment wait times visit the Visa Appointment Wait Times (US Dept of State) website.
It appears that U.S. Consulates are now able to process the demand for new E-3 visa applications in much shorter periods of time. We are seeing the "real" number of monthly visa applications monthly, and not a trend to the low or high due to appointment restrictions or backlogs being processed.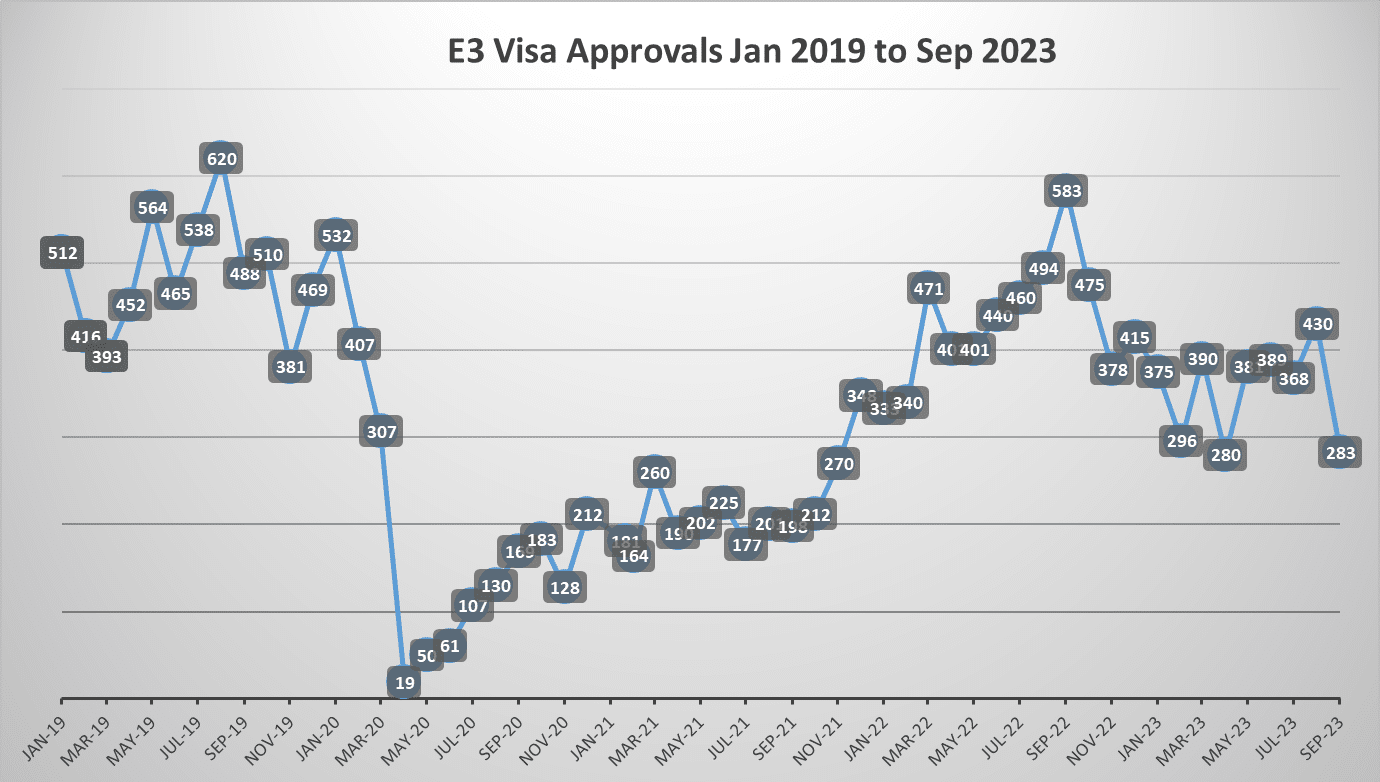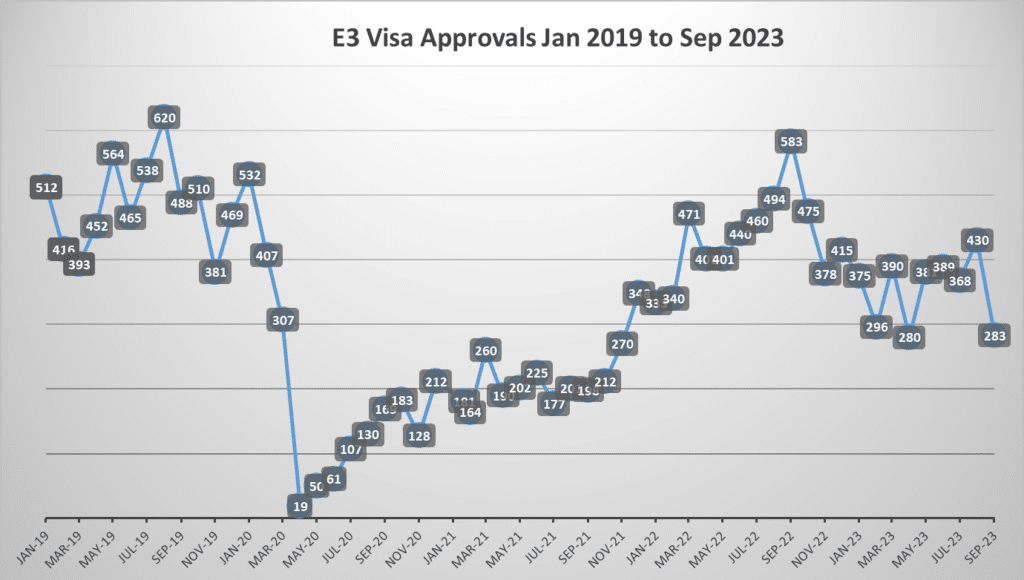 How many E3 visas will be approved in 2023?
So far, 3,192 E3 visas have been approved at US Consulates in 2023. Notwithstanding I-129 E3 approvals, based on this latest data we are lowering our expectation to less than 4,500 E3 approvals in 2023.