How Many Australians in America?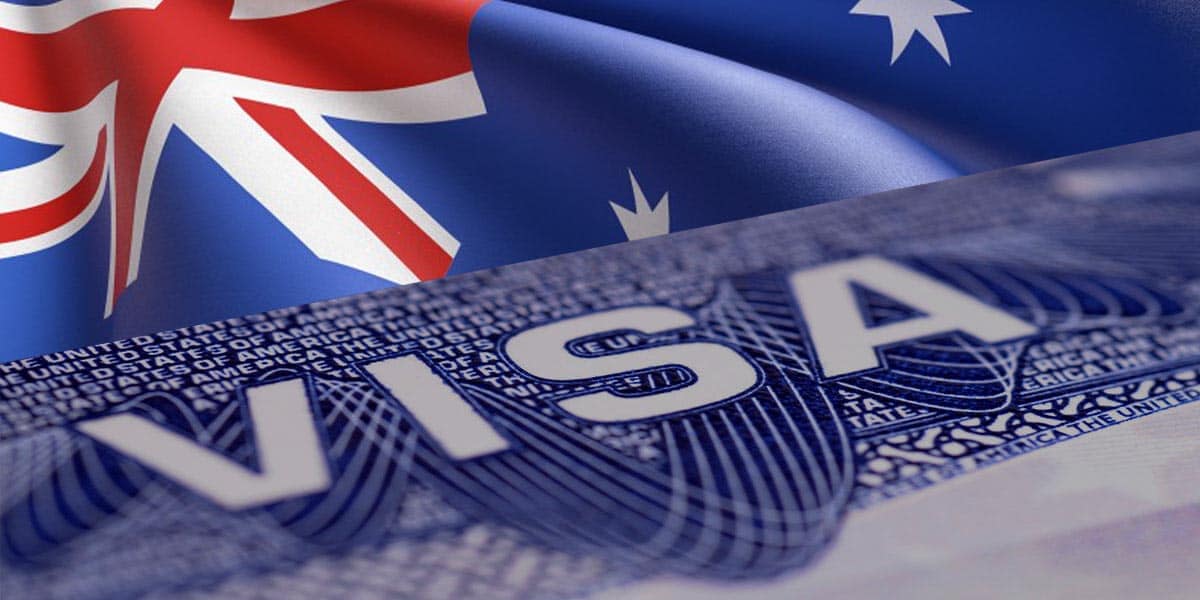 For a number of years, we have been publishing data on Australians living in America. This report highlights data directly obtained from the United States Government.
If you wonder how many Australians live in America and how many are just visiting, this article will attempt to answer some of your questions. So naturally, COVID-19 has severely impacted the number of Australians not only entering the U.S. but the number who have repatriated.
Australian Citizens Entering the United States on an I-94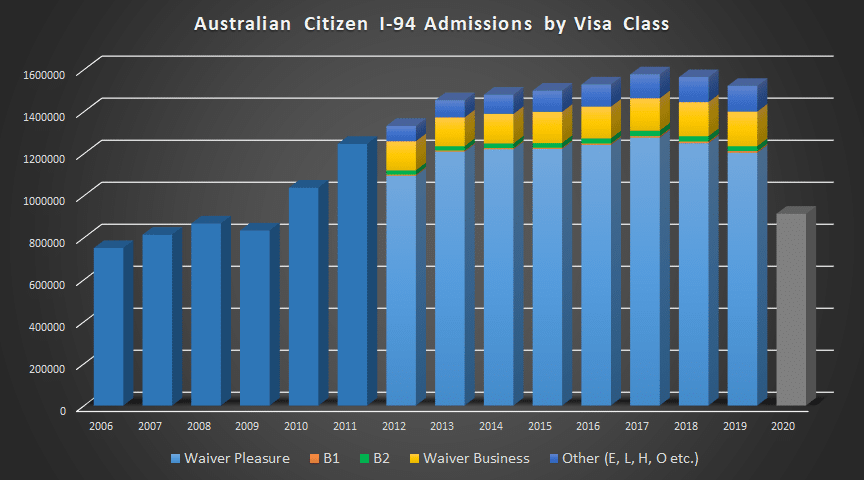 We are still waiting on the 2020 data, which is expected to show a 40% to 50% decline in Australian Citizen admissions.
Non-Immigrant Visas issued to Australians in America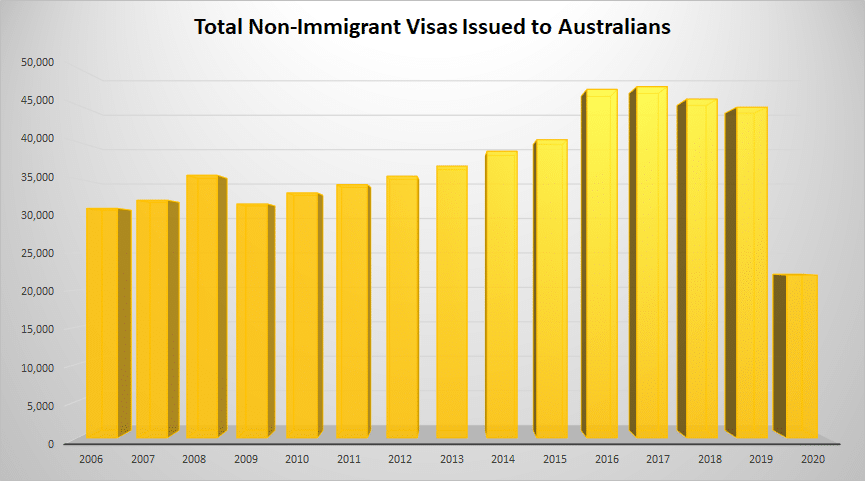 In 2020, the total number of Australians issued with Non-Immigrant visas declined by more than 50%!
O-1 visas were down 70% from 1,142 in 2019 to 353 in 2020.
L-1 visas were down 77% from 2,723 in 2019 to 616 in 2020.
H-1B visas were down 60% from 847 in 2019 to 285 in 2020.
J-1 visas were down 61% from 4,923 in 2019 to 1921in 2020.
E-3 Visas issued to Australians in America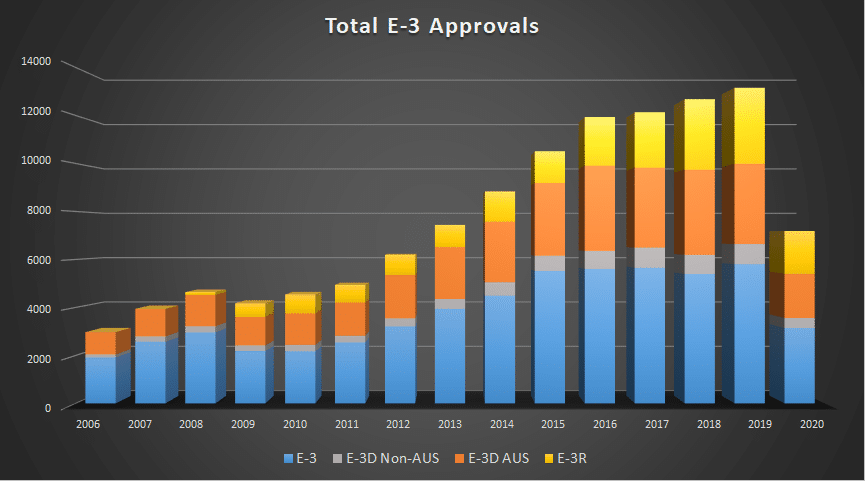 E-3 visas were down 46% from 5,797 in 2019 to 3,144 in 2020.
E-3D visas (Australian Citizens) visas were down 45%, from 3,345 in 2019 to 1,850 in 2020.
E-3D visas (Other Citizens) were down 50% from 832 in 2019 to 417 in 2020.
E-3R visas were down 44% from 3,166 in 2019 to 1,775 in 2020.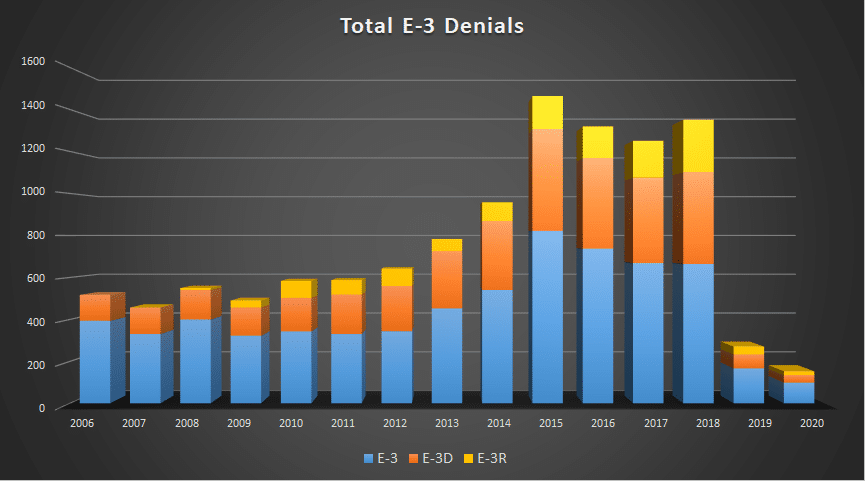 The total number of E-3 Denials was down 44% in 2020, which is expected given the drop in approvals.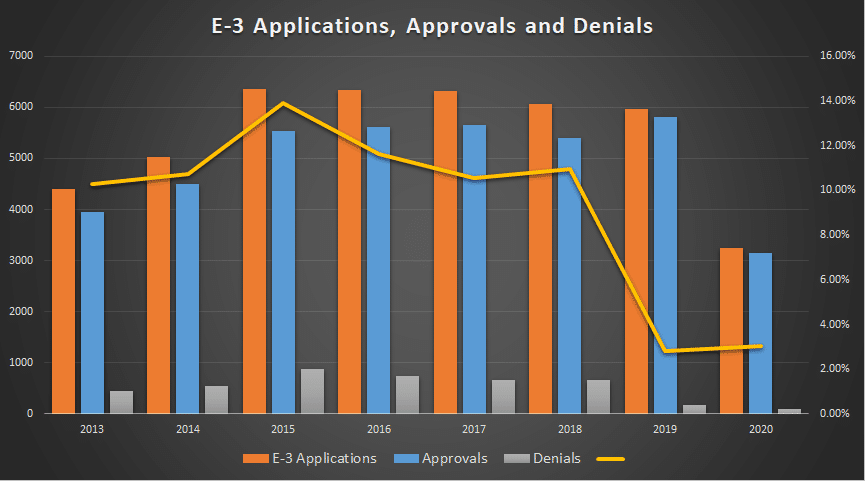 In 2020, the number of E-3 applications dropped by 2,653 from 2019. There was only a slight uptick in the percentage of E-3 Denials.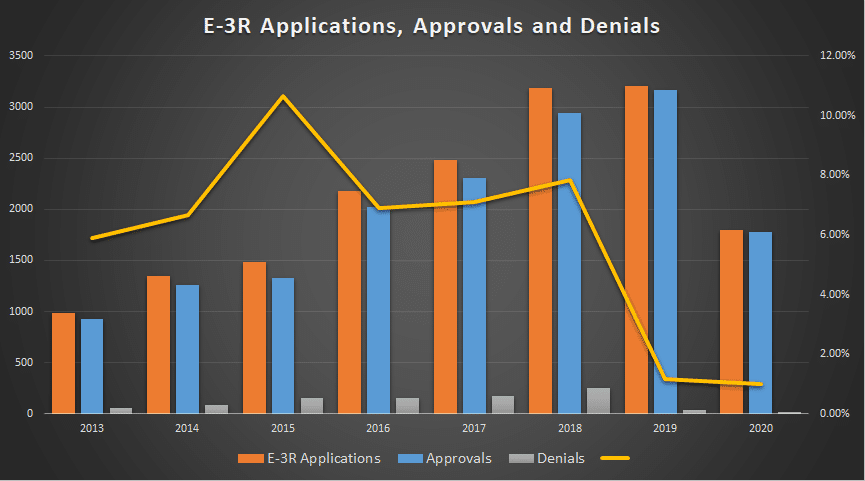 Similarly, E-3R (Renewals) in 2020 were down 1,391 from 2019. The percentage of E-3R Denials was slightly less.
No surprise that COVID-19 has had a significant impact on the number of Australians in America.
Other Nations on the E-3D Visa.
Another remarkable chart is spouses and children on an E-3D, who are not Australian citizens.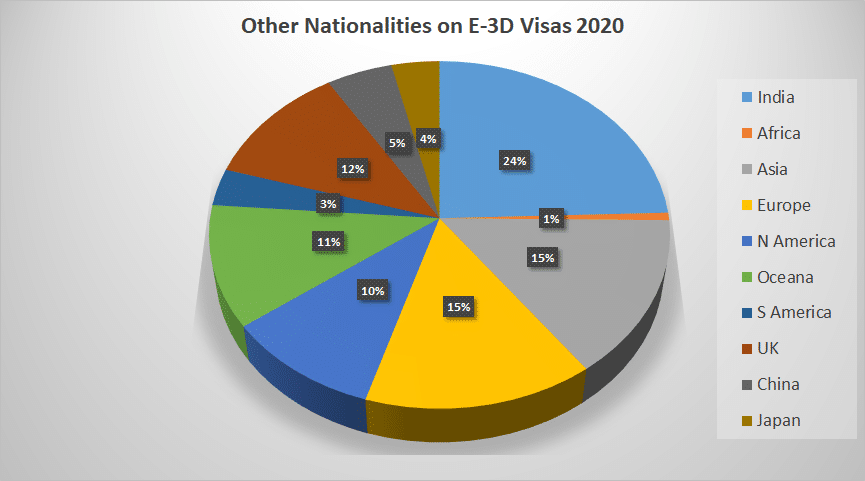 In 2020 there were 433 citizens of other Nations who successfully applied for an E-3D visa. This was down 48% from 832 in 2019 and line with expectations.
The Importance of the I-94
Any Australian who has entered the US is familiar with the I-94 card. It is the final say on how long you have until you must exit the US.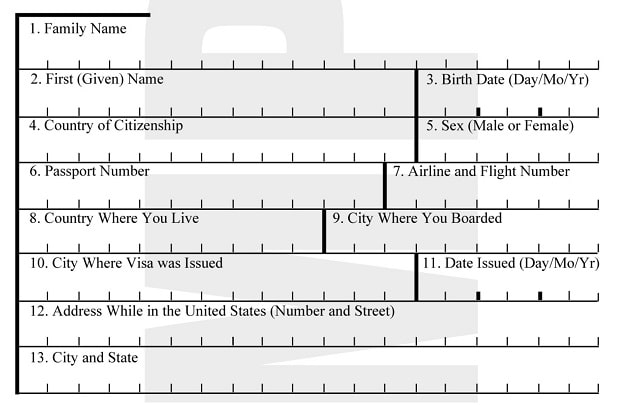 If you are on an E-3 and reenter the US, the I-94 must be dated past your visa renewal date. However, mistakes often happen, so always check the date in case a mistake is made.
The video below with Immigration attorney Zjantelle Cammisa Markel explains more about the importance of checking the I-94 date every time you re-enter the United States.
B-1,2 Visas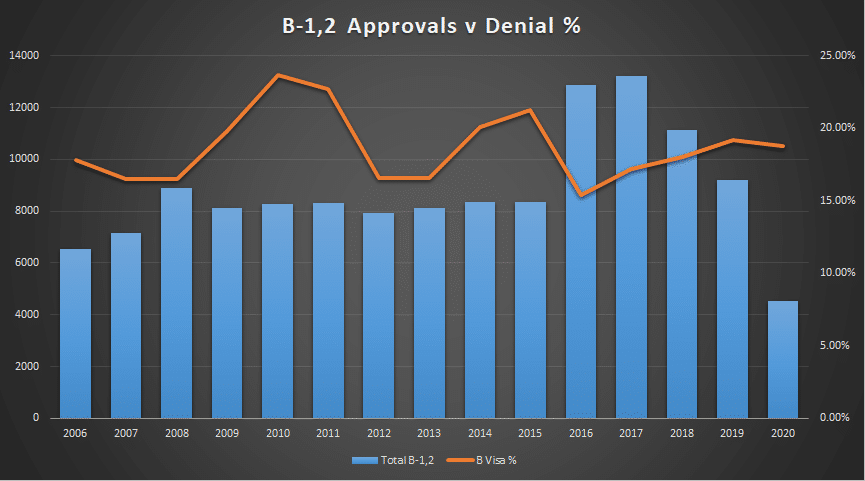 B-1,2 visa Approvals also saw a significant drop from 9,188 in 2019 to 4,541 in 2020. This represents a drop of 51%. There was a slight downtick in the number of Australians entering America on a B-1,2 visa, from c.19% to c.18%.
How Many Australians are Living in New York?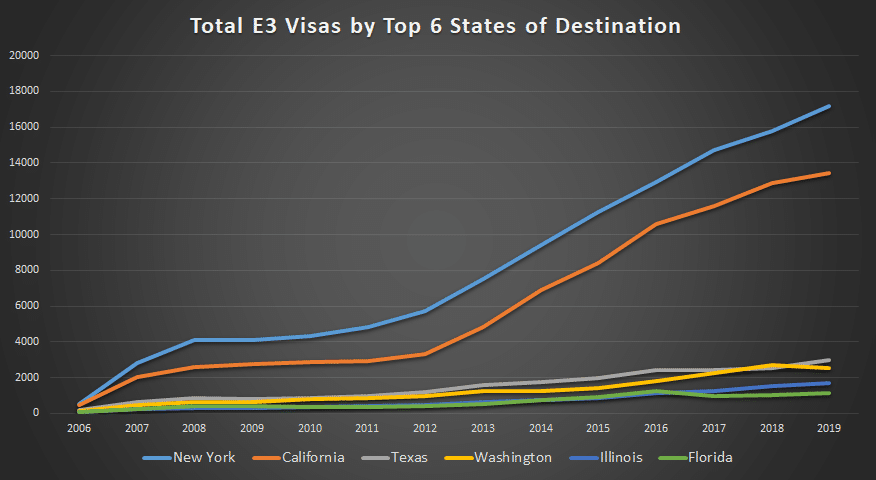 In 2019 New York led California as the preferred destination for Australians working on the E-3 visa. Cali led Texas who surpassed Washington State. Illinois and Florida round out the top six, with New Jersey given a special mention.
Green Cards significantly impact the number of Australians living in New York and other U.S. cities.
Green Cards
In 2017 we began a deep dive on how Australians are obtaining Green Cards. What may surprise many is that in 2019 only 344 Australians arrived in the U.S. after winning a Green Card in the Diversity lottery. This was down more than 20% from 433 in 2018.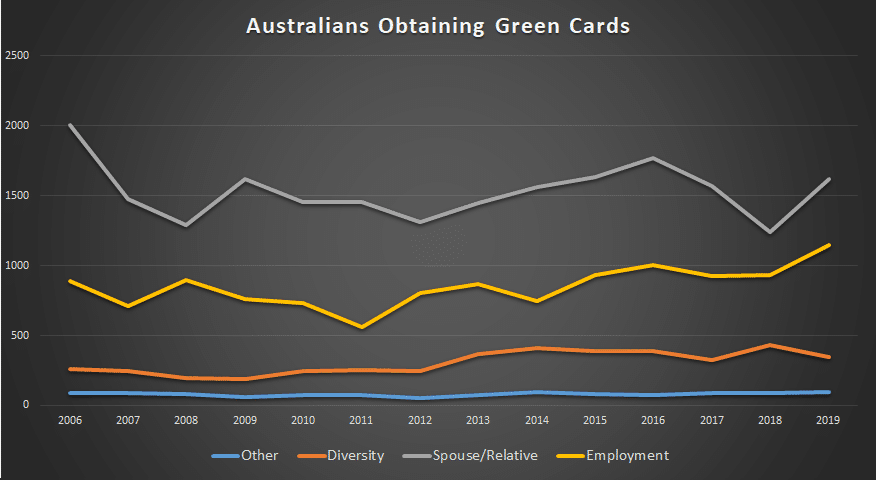 The vast majority obtaining their Green Card from marriage and immediate family members 1,621 (up from 1,238 in 2018), Employers 1,144 (up from 934 in 2018), with "Other" representing 96 Green Cards.
The Black Swan
The data for this article comes from the United States Government agencies. Unfortunately, some of the data is not available for more than twelve to 15 months. Fortunately, however, the data for the chart below lags only 60 days.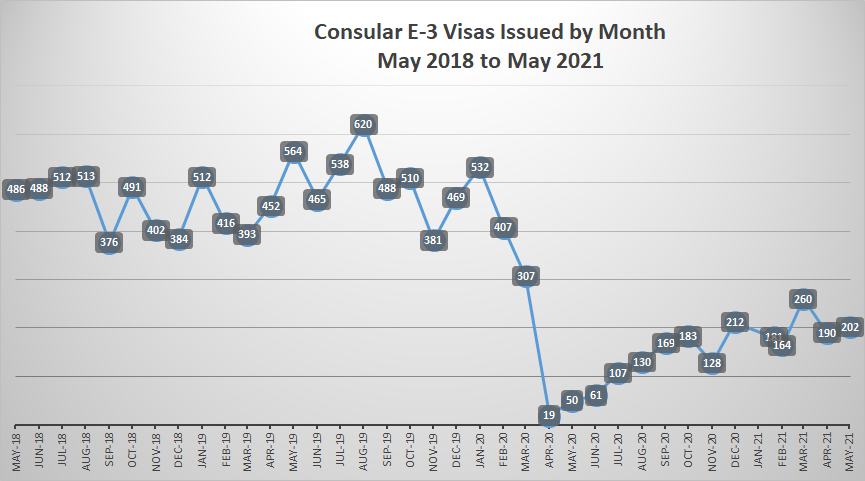 As of May 2021, E-3 visas are down 61% compared to the three-year average before the Pandemic.
We will continue to update data on Australians in America as new data is released.
To say that COVID-19 was the "Black Swan" that no one predicted is an understatement. However, its sharp impact has recently been felt on those seeking both Immigrant and Non-Immigrant visas.
The Australian Community has published information specific to E-3 visas, and you can click here to read more and watch videos discussing the impact of COVID-19 on E-3 visas holders.
Many Australians are stranded outside of the U.S., waiting for a visa appointment. Many are struggling to get back to Australia. Before making a decision that could have a long-term impact on your ability to re-enter the United States, always seek professional advice, as the situation is evolving daily.
We recently published two articles on Repatriation which may be of interest:
Australian Repatriation During COVID-19
About The Australian Community
Based in New York City and now in our tenth year, our 501(c)(3) organization was formed specifically to connect professional Australians in America. Over the past decade, The Australian Community has assisted tens of thousands of Australians in New York and across America.
In addition to our public social media, our members connect through a private Enterprise Social Network. Our network facilitates 1:1 connections. Most importantly, it contains the largest private Australian knowledge base in North America.
Therefore, whether you are an Australian in New York or another U.S. city, our non-profit services can connect you with other professional Australians to help you achieve your business goals.
If you are an Australian living in or moving to America, you can join The Australian Community.
Make a Tax-Deductible Donation
Our organization relies on the generosity of its members and supporters to continue our good work, assisting Australians living in the United States.
Please consider making a tax-deductible donation to our 501(c)(3) public charity.
All contributions are fully tax-deductible under Section 170 of the IRS Code. In addition, the Australian Community is qualified to receive tax-deductible bequests, devises, transfers, or gifts under sections 2055, 2106, or 2522 of the Code.