Disaster Relief Grant Use Reports

In response to the devastating Australian Bushfires in 2020, The Australian Community raised and sent more than $510,000 to Australian organizations for Disaster Relief in the form of Grants.
To keep our donors and supporters informed of the positive impact these grants have made, and per our non-profit activities, recipients of grants over $5,000 committed to providing a Grant Use Report.
Below are the Grant Use Reports we have so far received, with links to their respective reports.
---
Australia Zoo Wildlife Warriors Grant Use Report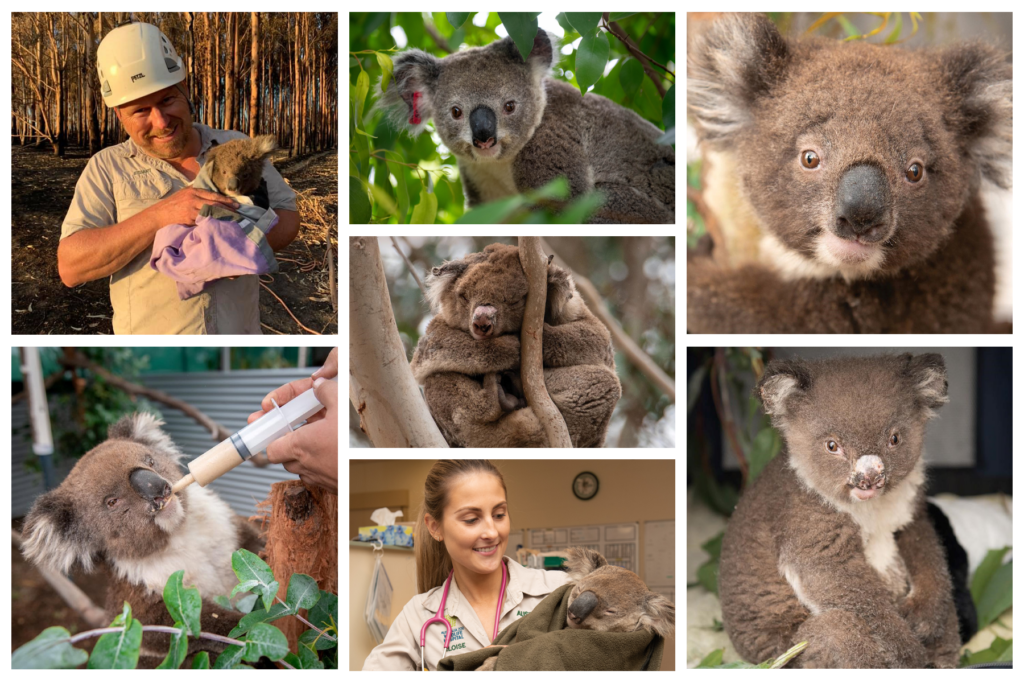 Project Description: Australian Wildlife and Habitat Recovery
Grant Period: Feb 2020 –December 2020
Grant Amount: AUD $49,573
Australia Zoo Wildlife Warriors and Wildlife Warriors Worldwide USA are incredibly grateful for the support received from The Australian Community. Your generous donation contributed to our Australian native wildlife and habitat recovery efforts, including the following:
Whilst the fires were at their peak; your donation helped us provide critical support to the frontline, with wildlife medical and food supplies sent to carers in fire-ravaged areas.
Your support also helped us deploy our emergency response team, rescuing and rehabilitating wildlife in one of Kangaroo Island's hardest-hit areas. Over 650 koalas were admitted to the temporary care facility set up on the island. Our teams rescued koalas in need, provided emergency veterinary care, sourced particular eucalyptus species to feed recovering koalas, and provided expert advice on long-term rehabilitation and release back into the wild.
Ongoing Care
Drought, the underlying cause of the fire, continues long after flames are under control. With a lack of food and water and little habitat to take refuge in, remaining wildlife is on the move more than ever, placing them in even more danger from risks like traffic and domestic pets.
The Australia Zoo Wildlife Hospital has seen a dramatic increase in patients in the last year. We've been busy expanding facilities and purchasing specialized equipment to cope with the influx and prepare for another fire season.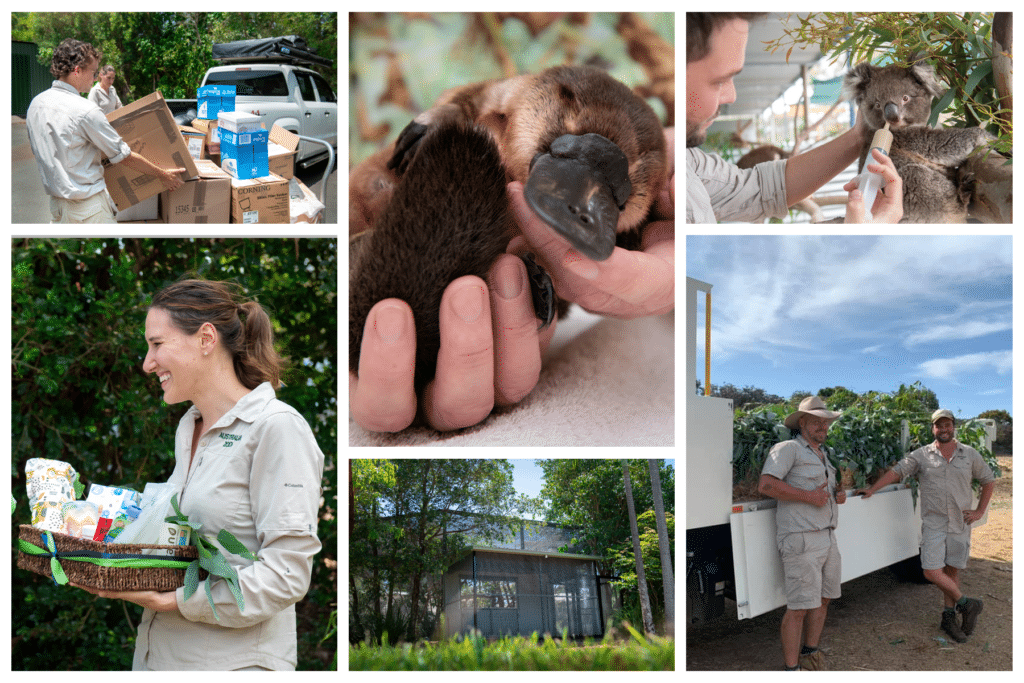 Steve Irwin believed if we can save one, we can save the species. With more wildlife now on the brink of extinction, standing together as Wildlife Warriors to save each life has never been more important.
Thanks to The Australian Community, we are continuing his legacy and are committed to our wildlife and their habitats' long-term recovery.
Thank you, for making our important work possible.
Wildlife Warriors
1368 Steve Irwin Way
Beerwah Sunshine Coast, QLD 4519
---
Country Fire Authority Victoria Grant Use Report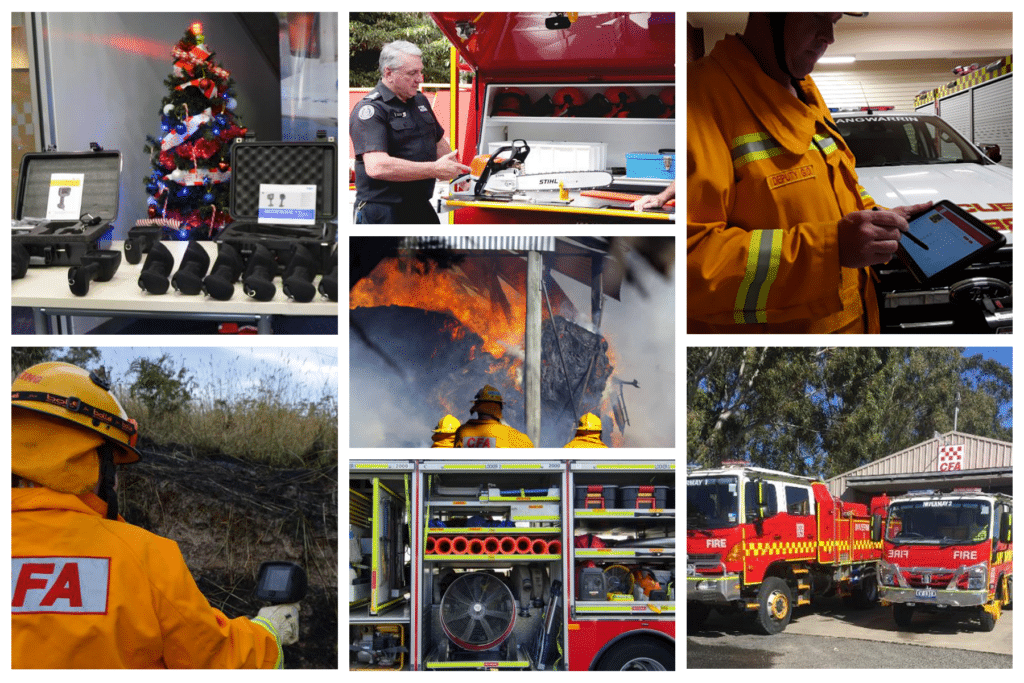 Project Description: District Pick List Program
Grant Period: Feb 2020 –December 2020
Grant Amount: AUD $127,965
Use of Funds
This gift contributed towards District Pick List Program to support brigades with practical items at a local level, which saw a total of 11,800 items allocated to brigades, including thermal imaging cameras, apparel, defibrillators, torches, and chainsaws.
Community donations from last summer's bushfires will help brigades bolster their firefighting capabilities with new tools, including thermal imaging cameras, chainsaws, quick-fill pumps, among other operational equipment.
CFA Acting Commander District 27 Gavin Parker said the suite of equipment would be added to brigades' gear already being used.
"This rollout will provide brigades with much needed equipment to help them better serve their communities," he said.
"It's been a challenging year for many brigades; without the ability to host fundraisers in ways they normally would, this will be a little boost to finish off the year.
"This will assist local CFA firefighters in being more efficient and more effective in protecting lives and properties within their community."
Project Description: Transformative Initiatives
Grant Period: Feb 2020 –December 2020
Grant Amount: AUD $18,968
Use of Funds
This gift contributed to the Transformative Initiatives – Volunteer Digital Learning Program which will help transform our volunteers' capability.
At least 300 mobile-enabled tablets:
For use by volunteer trainers and assessors to enhance and expand CFA's growing online training program.
It's envisaged that each region will be allocated a set that can be used individually for training presentations or as mobile "class sets" to allow for flexible learning at a station or any other location.
Online training has become a vital tool, with thousands of volunteers accessing training flexibly every year at a time that suits them, especially during the pandemic.
Our organization and our volunteer firefighters who endured one of our most challenging fire seasons last year appreciated these gestures.
Your donation not only provides valuable funding for CFA's work and volunteers in continuing to build our resources and in strengthening our capabilities, but it also shows our people that they are not alone in the fight and that the community has valued their selfless contribution. For our firefighters, this support provided an enormous boost to their morale at a time when they needed it most.
Once again thank you to CFA's Giving Community for your continued generosity and support for CFA.
CFA Communications and Stakeholder Relations
16 Lakeside Drive Burwood East VIC 3151
---
Volunteer Fire Brigades Victoria Welfare Fund Grant Use Report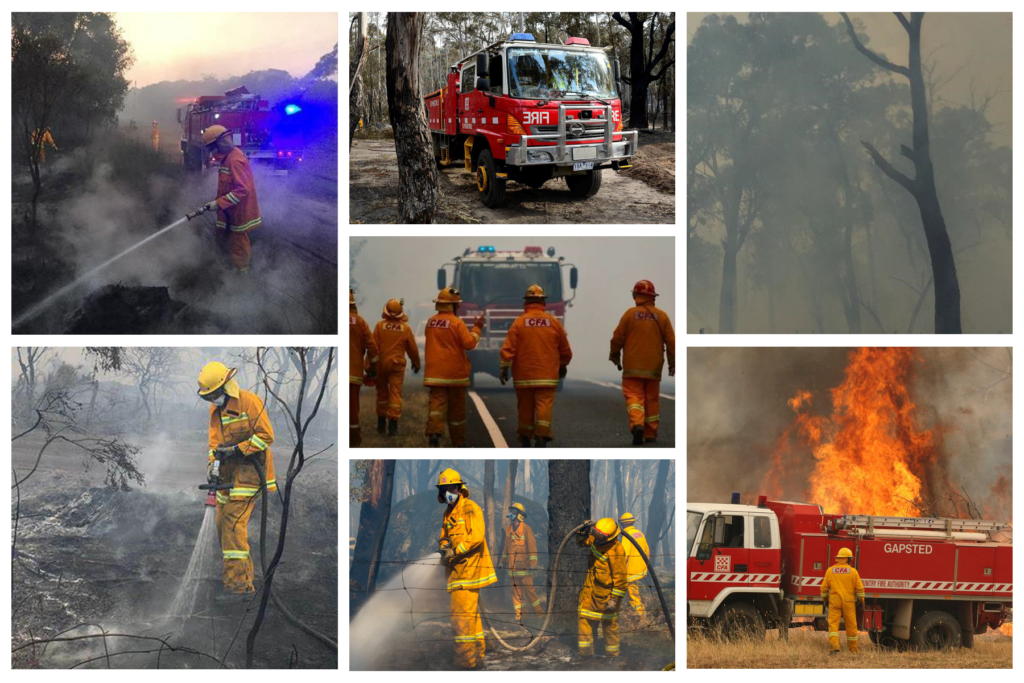 Project Description: Relief of Volunteer Personal Hardship
Grant Period: Feb 2020 –December 2020
Grant Amount: AUD $31,763
The VFBV Board and the VFBV Welfare Fund Committee of Management sincerely thank The Australian Community for its significant donation through its Disaster Relief Fund to support Victoria's CFA volunteer firefighters following the devastating bushfires occurring over the 2019/2020 Summer.
Volunteer Fire Brigades Victoria (VFBV) is an association that represents CFA's 55,000 volunteer firefighters and is established under the CFA Act 1958 to enable CFA volunteers to consider and bring to the notice of the CFA Board all matters affecting their welfare and efficiency.
The Association has operated a Welfare Fund since 1913, which provides monetary grants to CFA volunteer firefighters who are experiencing personal financial hardship/crisis. These Grants are designed to assist in alleviating stresses that may impact the member's ability to maintain their involvement as CFA volunteers and, therefore, their ability to continue protecting their community.
Use of Funds
The generous donation from The Australian Community of $31,763 directly helped volunteer firefighters severely impacted by this year's bushfires.
In total, for the financial year 2019/2020, the VFBV Welfare Fund paid grants of $273,237 to 59 CFA volunteers suffering severe financial hardship, including many volunteers who lost their homes during the recent bushfires.
Following this season's bushfires, VFBV called for donations to the new VFBV Volunteer Support & Recovery Trust, formerly the Black Saturday Recovery Trust Fund established following Victoria's Black Saturday bushfires in February 2009. The Trust has been established specifically to assist CFA volunteers impacted by large campaign fires and natural disasters and is currently receiving donations to support CFA volunteers who the 2019/2020 bushfires have directly impacted.
Any future donation to either the VFBV Welfare Fund or the VFBV Volunteer Support & Recovery Trust to assist our volunteer firefighters impacted by bushfires and natural disasters in the future would be sincerely appreciated,
Jenni Laing
VFBV Welfare Fund Secretary
Volunteer Fire Brigades Victoria
9/24 Lakeside Drive, Burwood East Victoria 3151
---
Koala Conservation Australia Grant Use Report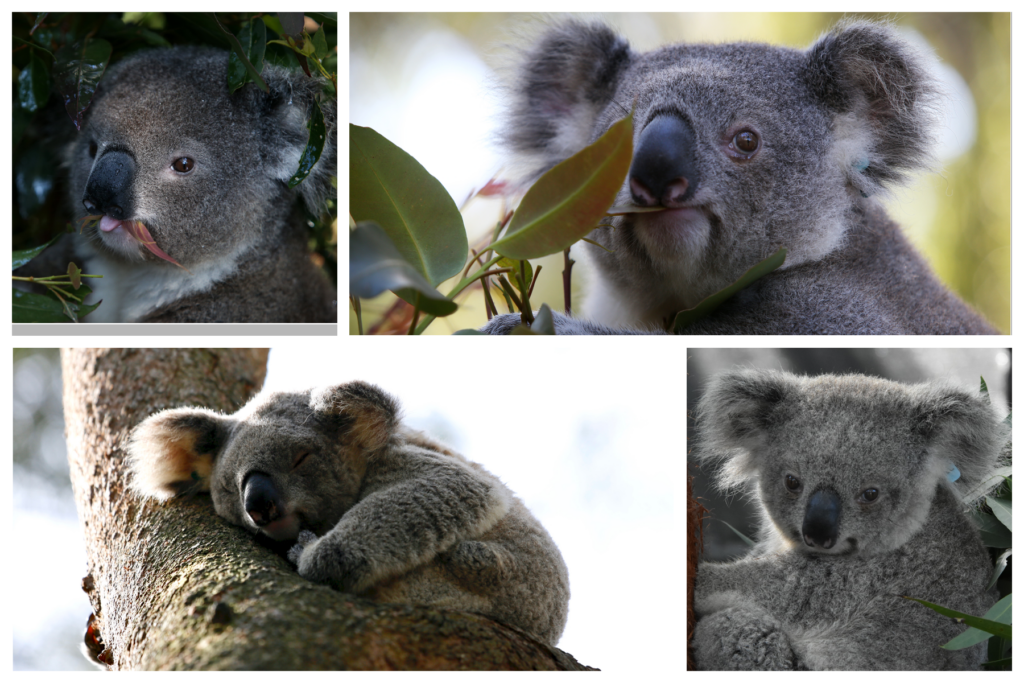 Project Description: Purchase of New Leaf Van
Grant Period: Feb 2020 –December 2020
Grant Amount: AUD $28,733
Koala Conservation Australia Incorporated is extremely grateful for the support received from The Australian Community. Your generous donation contributed to the purchase of a new leaf van.
Perhaps, the most important job at the Koala Hospital is providing fresh leaf daily for our resident koalas and koalas undergoing rehabilitation for release back to the wild. Our current leaf truck is a 2010 Nissan Navara with modifications for leaf collecting. The vehicle has a number of mechanical issues which require regular maintenance. The canopy is also in need of replacement as the leaves don't always arrive in optimum condition.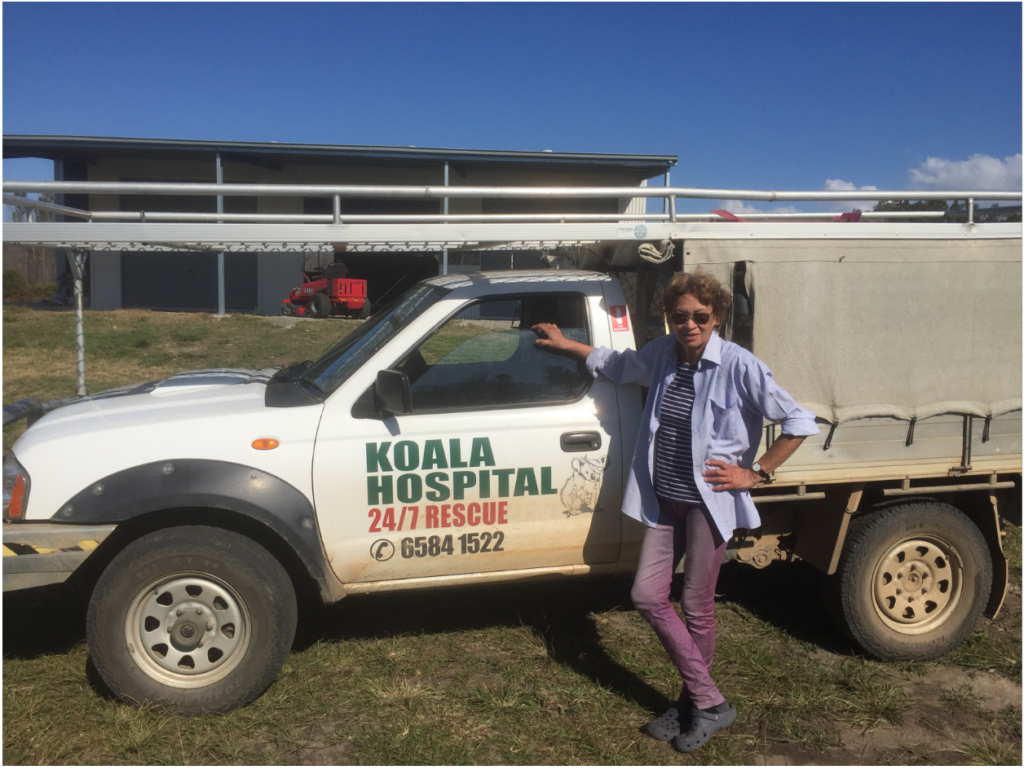 The Australian Community's generous donation has contributed to the purchase of a VW Transporter Van, a 4 wheel drive vehicle, which allows us to access difficult terrain. The van is also air-conditioned which means the leaf will arrive in optimum condition. We will also be able to reduce the frequency of leaf collection which at the moment is daily.
Wendy Afford | Administration Manager
Koala Conservation Australia Inc
Koala Hospital, Roto House Historic Site, Lord Street Port Macquarie NSW 2444
---
NSW Rural Fire Service Grant Use Report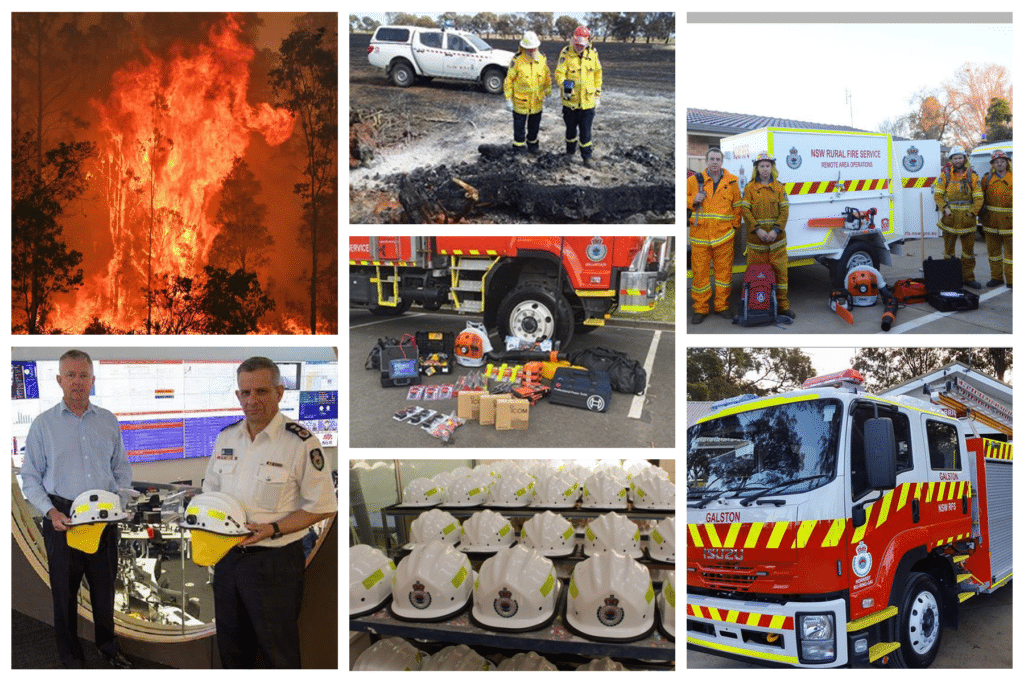 Project Description: The NSW RFS and Brigades Donations Fund
Grant Period: Feb 2020 –December 2020
Grant Amount: AUD $170,447
About The NSW RFS and Brigades Donations Fund
The NSW RFS and Brigade Donations Fund was established in 2012 to support volunteer brigades with the management of publicly donated funds.
The Fund is managed by a Trust, which distributes funds for a range of activities, including:
To or for the brigades to enable them or assist them in meeting the costs of purchasing and maintaining firefighting equipment and facilities, providing training and resources, and/ or otherwise meet the brigades' administrative expenses are associated with their volunteer-based fire and emergency service activities.
For authorized investments that are consistent with carrying out the purpose described in the bullet point above.
To meet the reasonable costs of the current and continuing operation and management of the Trust.
The Trust's webpage provides an update on allocations made for the donations received. Updates will be published at https://www.rfs.nsw.gov.au/about-us/nsw-rfs-and-brigades-donations-fund
Use of Funds
On behalf of the NSW Rural Fire Service & Brigades Donations Fund (the Trust), we write to let you know how greatly appreciated your very generous donation of $170,447.20 has been and how your donation has been used by NSW Rural Fire Service brigades.
The purpose of our Trust is to provide donated funds to or for our brigades to purchase and maintain firefighting equipment and facilities, provide training and resources and to meet administrative expenses.
In 2020, a $20m brigades grants scheme was established following the significant funds donated by the public and organisations from Australia and overseas during the 2019-2020 bush fire season. The intent of the scheme was to allow brigades to purchase additional equipment, or make improvements to their local stations. Over 1700 brigades have applied for this grant with more than $16m having been paid. It was to this program that your very substantial donation was applied and fully expended.
We have received many communications from brigades expressing their gratitude for the opportunity to purchase such items as portable pumps, chainsaws, blowers, battery operated incident scene lighting, bathroom, kitchen and training room upgrades. We attach some photos of brigade purchases.
Please refer to the Trust Report at https://www.rfs.nsw.gov.au/about-us/nsw-rfs-and-brigades-donations-fund that provides more details about how donated funds are being used.
Again, we extend our sincere thanks to The Australian Community in New York for its substantial donation to our Trust.
Yours sincerely
Andrew Macdonald
Chair
NSW Rural Fire Service & Brigades Donations Fund
Headquarters 4 Murray Rose Avenue Sydney Olympic Park NSW 2127 | Locked Bag 17 Granville NSW 2142
www.rfs.nsw.gov.au
---
WIRES Grant Use Report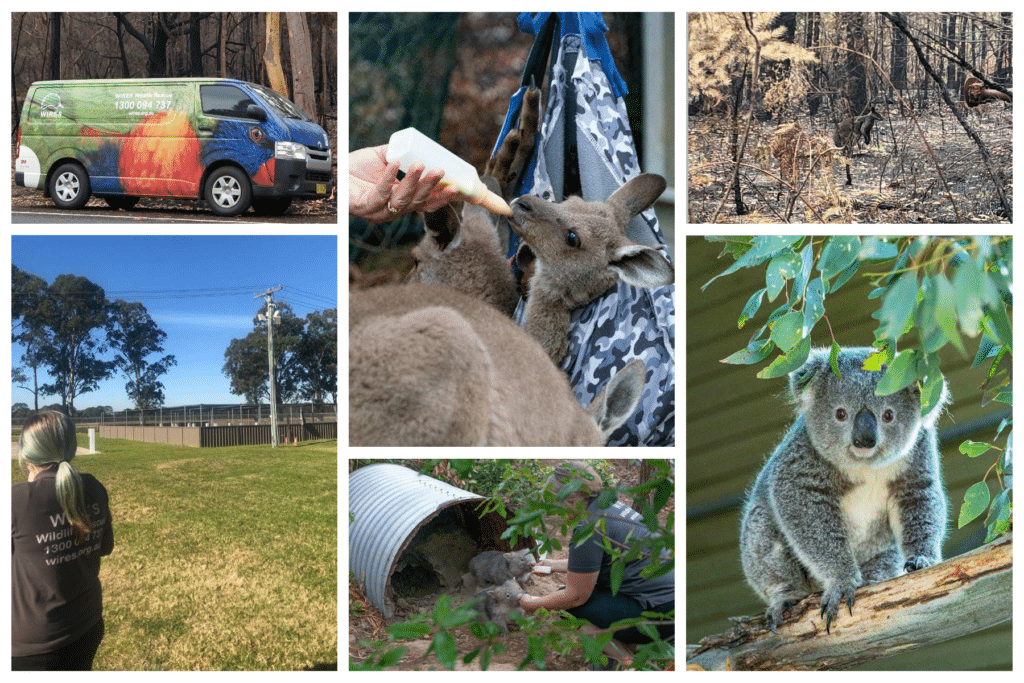 Project Description: Post bushfire care and rehabilitation of Australian wildlife
Grant Period: Feb 2020 –December 2020
Grant Amount: AUD $77,352
WIRES (NSW Wildlife Information, Rescue and Education Service Inc.) is Australia's largest wildlife rescue organization. WIRES has been rescuing and caring for wildlife for over 30 years, and WIRES mission is to actively rehabilitate and preserve Australian wildlife and inspire others to do the same.
Australia's Black Summer 2019-2020
The last 12 months have been unlike anything WIRES and The Australian community has ever experienced. Compounding the impact of one of the worst droughts in history, massive fires raged for months in what has become known as Australia's "Black Summer." Forty-six million acres of land were burnt, much of which was threatened species habitat, and 20% of Australian forests were lost.
Species thought to be common may need to be reclassified, and there are hundreds of species at risk of extinction. A new report confirmed that almost 3 billion animals were killed or displaced by the bushfire crisis, 143 million mammals, 2.46 billion reptiles, 180 million birds, and 51 million frogs.
Following the catastrophic fires across Australia in 2019 – 2020, WIRES focuses on increasing our capacity to rescue and care for more individual animals nationally and pursuing additional opportunities to help wildlife more broadly, including partnering on projects to improve long-term outcomes for native animals.
Impact of The Australian Community's Grant to WIRES
With the support of The Australian Community Inc. and its funders, this project aimed to:
"Support the rescue and rehabilitation of injured or endangered fauna, as a result of the Australian Bushfires"
WIRES utilized some of the funds received to provide much-needed food and nutritional supplements for animals that have been tended to by our licensed wildlife carers after being rescued.
Examples of food purchased:
Milk replacer, specially formulated for each species, for our juvenile animals in care.
Specialized supplement pellets for kangaroos, wallabies, wombats, and other native herbivores.
Koala supplement is designed for the nutrition and hydration of Koalas recovering from illness/injury and not eating voluntarily.
Live food replacement for omnivorous and insectivorous birds as well as nutritional support for sick and injured birds
Sustained-release energy supplements and electrolytes suitable for all animals to assist in recovery during times of extreme temperatures, stress, illness, or injury.
The rest of the funds are being used to build and maintain six koala enclosures at a secure location to house rescued animals at varying stages of release readiness. This facility will be located close to one of the worse fire-affected regions and will also have the capacity to take in injured, sick, and orphaned koalas from other areas, as required.
WIRES is extremely excited to embark on this project, with the support of The Australian Community Inc. and its funders. We look forward to updating you on this important new asset's progress, which will greatly increase our capacity to care for koalas in the future.
To give you an idea of the importance of the pre-release enclosures we are building, this is the story of Marine the koala, rescued back in January 2020:
This story is about a 2-year-old female Koala that came into care in January. She was found walking along the road, as the koalas had no choice but to move around looking for eucalyptus trees that had some leaves with moisture and nutrition. As she became known, Marine was rescued and taken into care, not as a result of injury but because she was starving.
Fortunately, after 7 months in care, building up her weight, and after some reasonable rain in the area, she had come from, Marine was finally ready to be returned to the wild. She was moved to a pre-release enclosure 2 weeks before her release to adjust to the local climate and the local eucalyptus species similar to those at the designated release site. After this time, she was released successfully back to the wild and will hopefully contribute to the local Koala population for many years to come.
WIRES is so grateful for the generous support of The Australian Community Inc. and its funders and the opportunity provided by this funding. We are happy to answer any questions you may have.
Thank you.
Jennie Murray
Projects & Grants Coordinator
---
Make a Donation to our Disaster Relief Fund
You can also download a contribution form if you wish to make a donation via check.
About The Australian Community
Based in New York City and now in our tenth year, our 501(c)(3) organization was formed specifically to connect professional Australians in America. Over the past decade, The Australian Community has assisted tens of thousands of Australians in New York and across America.
In addition to our public social media, our members connect through a private Enterprise Social Network. Our network facilitates 1:1 connections. Most importantly, it contains the largest private Australian knowledge base in North America.
Therefore, whether you are an Australian in New York or another U.S. city, our non-profit services can connect you with other professional Australians to help you achieve your business goals.
If you are an Australian living in or moving to America, you can join The Australian Community.
Make a Tax-Deductible Donation
Our organization relies of the generosity of its members and supporters to continue our good work, assisting Australians living in the United States. Please consider joining our organization, or making a tax deductible donation to our 501(c)(3) public charity.
All contributions are fully tax-deductible under Section 170 of the IRS Code. In addition, the Australian Community is qualified to receive tax-deductible bequests, devises, transfers, or gifts under sections 2055, 2106, or 2522 of the Code.