There has been a ton of recent press featuring Aussie cafés in NYC.  Most feature either the highly successful coffee chains or those found only in NoLIta.
To highlight some of the other Aussie businesses in NYC, here is the third in a series of articles featuring Australian Cafépreneurs.
We want our readers to learn more about their Aussie owners, and what is unique about their businesses.   We spoke with Adam Sobol who with his partner Sergio D'Auria opened Southern Cross Coffee located at 300 E 5th Street between 2nd and 1st Avenues.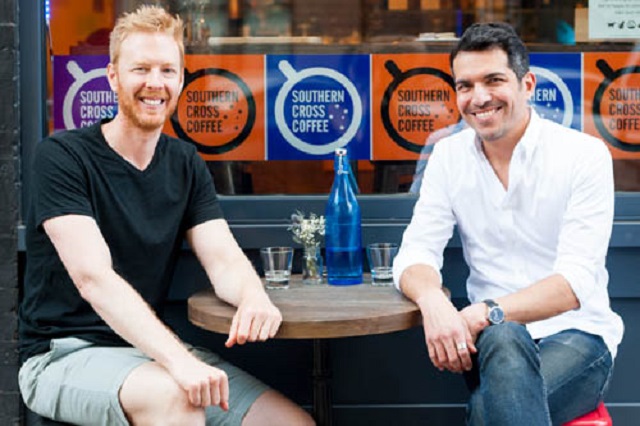 Adam, where were you born in Australia?
I am from Sydney Australia and spent most of my adult life living in the Newtown area.
What did you do in Oz before moving to NYC?
Before moving to New York I was a bit of a corporate junky, working for big name brands such as Optus and American Express. I worked in various capacities for these companies, including Marketing, Operations, Transformation to name a few, making my way up the food chain as I went.
What brought you to NYC?
I originally came to New York in January of 2008 with American Express after having worked for them in both Australia and India. I had intended to come and stay for a year, enjoy the city, and then head back to Australia to pick up with the life that I had put on hold back home.
As it turned out I fell in love with the city, started to invest more in my career here, and of course made some great friends. All of a sudden, 10 years passed me by.
What inspired you to open a café in NYC?
Southern Cross Coffee is really a partner effort. My partner in crime behind this café is Sergio D'Auria, an Argentinian born from Italian decent, who grew up in Connecticut.
We really wanted to create something that was representative of the amazing coffee cultures in both of our countries. We had both been in New York for many years and were tired of the poor standard of coffee in this town.
We also missed some of the great delicacies you can find in our native lands and decided to find a way to offer them with our excellent quality coffee.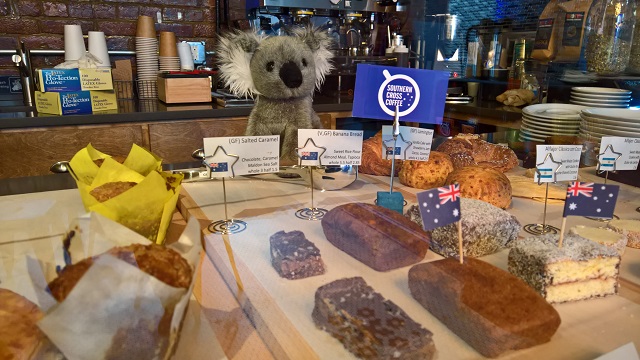 What do you feel is unique about Southern Cross Coffee?
While there has been a little explosion of Australian coffee shops in New York, we really feel we have something truly unique. With our core concept being both Australian and Argentinian, we offer incredible quality espresso based coffee drinks, made manually by experienced and talented baristas.
To accompany that we have a great mix of Australian goods such as Lamington's, Banana Bread, Salted Caramel Slice, and even Vegemite on toast. From Argentina we have some of the best Alfajores in the city, traditional yerba mate tea, and we have just added some delicious empanadas.
You will also find some of the usual treats such as croissants, muffins and cookies, plus much more. We are really trying to have a good mix of foods to suit breakfast, brunch, light meals and desserts.
All this of course can be experienced in a quaint, neighborhood place with a great atmosphere and exceptional service, where we bring your coffee and food to you at your table.
What advice do you have for any Aussie thinking of opening a small business in NYC?
Owning a business can be both an exhausting and rewarding experiences. It has been that way for us. While much of the experience has been what we expected, there have been a few surprises. Here are a few tips:
It can be challenging navigating the bureaucratic processes in New York City. There are many rules and regulations and many of the service providers in this city move slowly. Do your research and talk to many people. There is some incorrect information out there.
Be an active part of the business for at least a year in order to really establish the culture, team, processes, and service ethic that you want to instill in your business and the brand that you want to build.
Surround yourself with a fantastic team. We found that starting slowly and taking the time to find the right people makes a difference.
Have fun with it. It's going to be a ton of new learnings and experiences. Just enjoy it as much as you can, acknowledge that you will make mistakes from time to time, and that you will figure it all out as your business progresses forward.
For hours and location you can visit www.southerncrosscoffee.com