Finding Employment
The fact is that finding work in one of the most competitive cities on the planet is going to be a challenge for most Australians. Landing in a US city with a freshly minted EAD or Green Card is only a ticket to the big league.
If you go into the game without understanding the rules or having a game plan, you will quickly start to accumulate some very unnecessary scar tissue.
Members of the Australian Community have access to resources inside our Private Social Network to assist in the job hunt. They include our Employment and Mentoring Groups where they can make professional connections, access job resources and learn from the experience of other Australians.
Before we speak to the best practices of finding work, we need to cover some of the legalities of searching for work in the US.
Immigrant Intent
We touched on this concept in an earlier chapter. Essentially if a US Border Protection Agent, i.e. the first Agent you speak with before entering the US, suspects that you have immigrant intent, which can include seeking work in the US, you will be denied entry and sent back to your original destination.
Telling a Border Protection Agent that you are entering the US to seek work, in their mind, you are here to seek work AND work illegally. Trying to explain that you are here to find work, leave the country, and then apply for a work visa will also fall on deaf ears. Finding an Immigration Attorney's business card on your person could also have you on the next flight back to Oz.
After overcoming this first challenge, this chapter will guide you through a whole set of new challenges of what can be a very confusing job market.
Understand the Risks
It is always best to shine a light on the negatives early. Finding a job in the US, especially a major city such as New York, is no easy task. You are not only competing against the best and brightest in the US, but every ex-pat from every other Nation on the planet who sees the US as the land of opportunity.
If you are applying for a job, you not only need to be better qualified and have more experience than an American, but you also have to overcome the perceived cultural risk of employing a non-US citizen. In some situations you may well be the first Aussie to apply for a position at that company.
Do Your Homework
Before you make the decision to move to the US, you need to do your homework. In the first chapter we covered Budget/Expenses, and now we are going to explore your potential earnings.
Looking at the major Job Boards and employment sites, you are going to get an understanding of what positions are available to someone with your skill sets. Unfortunately, salaries are generally not included with the Job Description (we cover why below), but you will get a feel for the qualifications and experience necessary for the roles you would be seeking in the US.
If you only have a Bachelors, and the Role states post grad qualifications a plus, then chances are the employer or recruiter is going to go with a candidate holding a MBA.
If you have a Sports or Political background, it is going to be tough to break into a field that where it is 80% who you know. In a nutshell, unless there is a strong demand for your skillset, finding work is going to take longer than you think.
Even if you do find work, is it enough to sustain an equivalent or better lifestyle than you currently have in Australia?
Certainly you may be prepared to take a slight haircut on salary in exchange for adding International experience to your resume, but if your lifestyle is based on the crumbs in your pocket after paying your living expenses, perhaps you need to reassess your move?
The Recruiter
The Recruiter comes in two flavors, Internal and External. Typically large organizations have their own internal recruiters, and smaller organizations use a third party recruiting firm. Small businesses typically use job sites or LinkedIn to post positions.
When you approach a Recruiter, you need to make a first impression. Simply sending "I would like to connect with you on LinkedIn" message is not going to make much a first impression, in fact it will hurt you.
Finding recruiters in your industry is relatively easy. Log into your LinkedIn profile, and then click inside the Search field at the top of the page, and select "People".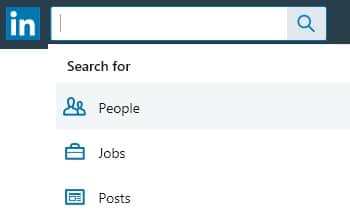 Then select the "All Filters" at the next screen and you will see a form appear where you can narrow your search.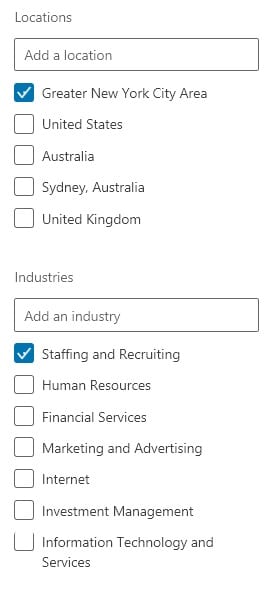 Here you can search for 1st, 2nd and 3rd connections, in your area, who work in Staffing and Recruiting.
If you find second connections, reach out to the connection you both have in common, and ask for a warm introduction. If there are no common connections you are going to have to pick up the phone and cold call the recruiter via the company's main switch.
However before you do, understand that you have to sell yourself before they can sell you to an employer. The best practice is to make a list of your strengths to impress the recruiter on the call and therefore he or she will be willing to meet you or at least review your resume.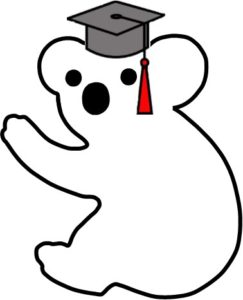 If you get a voice message, leave your name and number, but tell them that you will call them back at 9:35 AM or 10:20 AM tomorrow – some odd time of the day. Then at that exact time, call. Even if you leave another message, it will impress the recruiter that you followed up and did exactly what you said you would do. Fail to follow up, and you will burn a bridge.
The Interview Process
To help Australians better understand the nuances of finding work in the US, below are our top tips to help you navigate what is a very different job market.
The Salary Discussion comes last!
One concept that many Australian job seekers have difficulty in understanding is that the money discussion comes last. Logically, why would you interview for a position if you do not know how you will be compensated?
The answer is in another question: How do I know how much to pay this person if I do not know what they are worth?
After you have aced the interview process and impressed the half dozen or more interviewers, then comes the offer. This is often a negotiation. Typically the offer will be on the low end as the manager has a degree of discretion in salaries.
It is your job to understand what the high end is. It may be the same, but asking this question may be the most important in your interview process. You have already proved that you are the most qualified candidate, but are you as good a negotiator?
Expect Multiple interviewers.
Everyone is risk adverse in the US and hiring a candidate is no exception. Expect to be interviewed by peers, managers, HR, your boss and one level of management above them.
The logic is that not everyone will get it wrong and a consensus will decide the best candidate. Do not make the mistake of thinking that the peer interview is not as important as a manager's.
There is a reason that each person has been selected to interview you and your mission is to understand what is important in their criteria for selecting the successful candidate.
It does not apply in every situation or industry, but asking your variation of the question "Is there anything that we have discussed (or not discussed) that would prevent me from being the successful candidate for the position?" will shake out any objections and enable you to deal with them before they report their feedback on your interview.
Understand How to Read the Room.
If you are fortunate enough to be on an interview, here the first few minutes are traditionally taken as a preamble to questions. As we discussed in the previous chapter, Australians have a very different Language of Friendship to Americans and understanding the differences can assist in building a friendly rapport with your interviewer.
While your interviewer is telling you that they have always wanted to visit Australia and that it is so far away, take a few minutes to look around their office for visual clues such as photographs, degrees, trophies or a bag of golf clubs in the corner: These are gems!
If a photo is of their family and or dog, ask their names and ages. How long have you been married? Where do they go to school? Any personal item that the interviewer feels is important enough to display in their office, should be important to you as well.
One or two minutes spent finding ten pieces of personal information will set the platform for a great interview.
Learn the Local Language.
Every industry has its own language and yours may be one of them. Technical terms, acronyms and jargon can be very specific to your industry as well as the US. Is a BDM a Business Decision Maker or a Business Development Manager? Is a SME a Subject Matter Expert or a Small to Medium Enterprise?
Part of your challenge in an interview is sounding authoritative in local language, even though you have a foreign accent.
When you are speaking in an interview, be sure that people are listening to what you say and not how you mispronounce words. It gets back to reassuring a prospective interviewer that hiring a non-US citizen is not going to create unnecessary risk within the organization.
Whether you agree with the local pronunciation of Mazda as Mars-da is irrelevant; either way can be pronounced with an Australian accent, but the latter (along with learning other local language) can be the difference between creating or retiring risk in the mind of your prospective employer.
Never use "Sponsorship" and "Visa" in one sentence.
Anyone looking to hire a non-US citizen is going to be a nervous as a nudist through a barbed wire fence when it comes to the topic of work authorization.
Thousands of Australians have successfully explained the E-3 visa to a potential employer and you can be quite confident they never used the word "sponsorship" in the same sentence as "visa".
A very simple explanation is to ask the Interviewer have they heard of the Canadian TN work visa? Most have, so you simply state that the E-3 is the same, but for Australians, they have never reached the 10,500 limit and they are available all year.
No matter how you explain the E-3 and why it is not the same as a H-1B, you need to be very confident in your explanation. Any hesitation or legal miscommunication around the topic of work authorization during the interview process is going to kill your chances of employment.
If you are successful in receiving a job offer, feedback from Immigration attorneys tell us that many Australians submit poorly prepared paperwork.
Make sure that before you submit your E-3 paperwork that everything is in order as you do not want to drop the ball once you are over the line.
.au can say that you are not committed.
If you are committed to moving to the US, then make the commitment virtually as well. Firstly, set up a personal US email account through Outlook or Gmail and include this on your resume.
If you are setting up a new email, keep it professional! The alias "LozieTheAussie" @ any email address is not going to make a professional impression.
Variations of your first, middle and last names with periods or dashes should yield a unique professional email alias. It will also keep any job related communications separate from your personal .au emails.
Think about a local cell phone number as well, as no employer or recruiter is likely to call a number commencing with a +61 for an interview.
Also, change your LinkedIn profile to your US region . Recruiters and employers will search your social media and LinkedIn is usually the first stop. If LinkedIn lists your location as Australia, it can either demonstrate a lack of commitment or you do not possess attention to detail.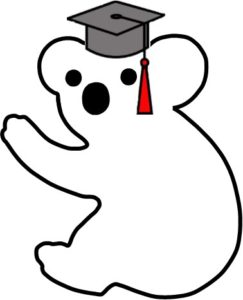 Note: Be truthful in your LinkedIn profile and do not post anything in social media that will come back to haunt you later.
Understand that not only Employers and Recruiters, but US Customs and Border Protection can review the social media of anyone entering the US including Facebook and LinkedIn (even if your social media page is not public).
Make your Resume RELEVANT!
There is the story of two Australians who were seeking work in New York. One had held a senior role in Sydney and the other a less senior role in the same company's Melbourne office.
One worked on accounts such as Gucci, Prada and Burberry and the other David Jones, Meyer and Coles. Who appears to be the better choice from an American perspective? Are years of experience more relevant than brand recognition in a resume?
Logic would dictate that the candidate who held the senior role, and who possessed more experience would get the job, but that is not always the case here in the US. Often you have to translate your resume into concepts that Americans can understand.
Stating that you worked for a company with annual revenue of AU$450 million is not the same as stating that the company was larger by revenue that the combined revenue of its three nearest competitors!
Always be thinking in terms of how relevant both you and your resume are to an American employer and recruiter.
A Resume is only ONE Page!
If you can tweet your innermost feelings in less than 140 characters, then you can produce a resume of less than one page.
Recruiters and employers often see a resume as nothing more than a check list for the qualities and qualifications of candidate for a specific role; an admission ticket to an interview.
Rule of thumb: Less is more!
Be sure that your resume highlights your qualities, achievements and education, and does not list irrelevant sporting and personal interests. Our members have access to The Perfect Resume, which is a resume template designed to summarize your work history, qualifications and achievements on one page. It is in Word, and it is formatted for US Letter.
If you are looking for inspiration, just look at other resumes posted on job boards and use a similar format.
It's a Resume, NOT a CV!
Graduating Magna Cum Laude may be an advantage in an interview, but using the title Curriculum Vitae in lieu of Resume can kill your chances of finding work.
Creating obstacles such as highlighting a language or formatting differences through the title of your resume will do you no favors. Spelling errors are bad enough but an incorrect title can make a very bad first impression.
How we pronounce certain words can be endearing in an interview, but spelling gaffes such as colour are going to have your resume sent to the bottom of the pile faster than you can say Alumimnium.
While you are switching your spell checker settings in Word to "US English", make sure you switch your page size from A4 to Letter as well!
Many people with whom you are interviewing have never hired a non-US citizen. Not only do you have to prove that you are the best candidate, you have to overcome a cultural barrier.
An Australian accent makes us endearing, but remember to never argue over the correct pronunciation of a word, even if the Periodic Table spells it that way!
You do not choose New York; New York chooses you!
If you are among the vast majority of Australians whose dream it is to live and work in New York, the reality is that it is not for everyone, and assumptions often lead to disappointment. There is a persistent misperception that US employers are lining up to hire Australians: This is simply not true.
One of the most challenging obstacles to finding work in the US, is that the process can take three to six months to complete. The reality is that many Australians return home within a few months after failing to find work.
An abundance of E-3 visas does not correlate with an abundance of jobs for Australians. Here is a link to an article where three Australians share their New York experiences finding work.
New York is the deepest, darkest end of the pool and you are also going to have to learn to get out of your comfort zone if you are going to swim with the Men in Grey Suits.
Our organization can assist with opening Bank accounts and accessing credit cards, but be prepared to battle to achieve just basic needs in NYC such as finding an apartment. Any sense of entitlement or expectations you bring to New York can often lead to frustration and disappointment.
The reality that many Australians soon realize is that finding work in a country with 20% under/unemployment, where you are competing against the best and brightest from other countries as well as Americans with strong alumni connections, is not an easy task.
Many American employers have never hired a non-US citizen, so simply being the smartest or most qualified is no guarantee to finding work in New York.
There is an x-factor that often makes the difference between success and failure in finding work, and it cannot always be explained in rational terms.
Understanding that New York may not choose you allows you to be open to the all the excitement and culture New York has to offer; not spending your time simply looking for work.
Click here to read "Moving to the US for Aussies" from the beginning
About The Australian Community
The Australian Community is a 501(c)(3) Public Charity and its Mission is to connect Australians living in the United States through social. professional and charitable initiatives.
All contributions are fully tax-deductible under Section 170 of the IRS Code. The Australian Community is also qualified to receive tax-deductible bequests, devises, transfers, or gifts under sections 2055, 2106, or 2522 of the Code.