What would happen if The Australian Community appeared on Shark Tank?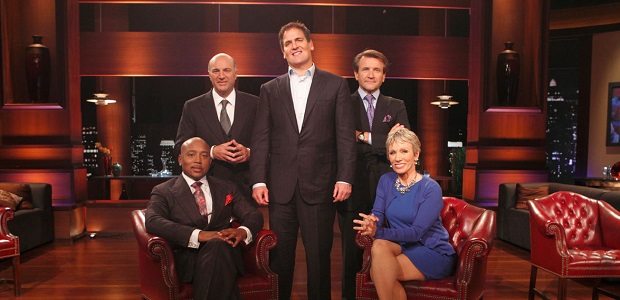 If you are not familiar with Shark Tank, the TV show features Entrepreneurs pitching highly successful business owners on why they should invest in their company.
Theoretically speaking, if you could successfully pitch the Sharks on the value proposition of our organization to Australian Ex-pats, then attracting new members to join The Australian Community should be a no-brainer.
So play the theme music, and watch the action unfold as The Australian Community makes a hypothetical appearance on National television.
Going in with a strong strategy is equally important as knowing your numbers.  Being accompanied by a colleague in a Koala suite will be a good start.  If Putin took time to attend a G20 summit just to hug one of these cuddly creatures, you are going to want to lead with a visual reminder of why we are a cool Nation.
Our first pitch is going to be to tech mogul Mark Cuban. Impress this savvy billionaire technologist and the rest of the Sharks will fall into line. We would be sure to sell Mark on how our organization can now effectively reach thousands of new members across the US through the availability and scalability of a private social network powered by Microsoft Yammer.
Mark especially is going to be sold on how our Buy vs Build Enterprise Social Media strategy has retired risk and minimized our ongoing technology costs.
Time to roll out the first wave of giveaways:  Queue the Koala mascot toys for all the Sharks.
The secret to closing Robert Herjavec, apart from ensuring there are extra Koala toys for each of his children, will be pitching the value of enhanced privacy within the social media space.
"Let me ask you Robert… Imagine the professional fallout if you posted a legal or tax challenge you are facing in a group that suddenly appears in your public timeline?  Unlike LinkedIn, all content and conversations in our Yammer portal remain private and on our side of the firewall."

Time to hand out sets of Argyle diamond encrusted Koala earrings and cufflinks to all the Sharks.
This should impress fashion expert and branding guru Daymond John who is our next Shark to pitch.  Given Daymond's strong marketing and branding background, communicating the strength of The Australian Community's brand will be key in winning mindshare with this Shark.
Lori Greiner "The Queen of QVC" is always impressed by products that innovate and have a broad appeal.  We will be sure to impress Lori with our portal's ability to aggregate the National purchasing power of our members to unlock corporate discounts.
After observing how their fellow Sharks are impressed by their haul of Koala chachka, Laurie and Daymond are now discussing going in together a royalty deal with The Australian Community on selling an exclusive new line of Koala jewelry on QVC.
Naturally Barbara Corcoran would love the parallels of The Australian Community to her own New York story.  Relating our struggles as we grew from nothing into a leading Australian organization has Barbara reaching for the Kleenex, just before countering Lori and Daymond's offer.
But the smart money is always on Kevin O'Leary aka "Mr Wonderful".  For anyone who has watched the show, Mr Wonderful can be formidable.  Not many hopefuls have gone more than three minutes toe to toe with this fierce opponent!
The cufflinks may have been a good start, but our next strategy to further soften up Mr Wonderful would be to open a bottle of 1951 Grange, just before we touch gloves.
Whilst Mr Wonderful is quaffing one of Australia's finest, we would sucker punch him with a 1-2-3 combination…
#1  "Our explosive growth has been driven by best practices and a disciplined member acquisition model.  In our first three years we grew from zero to the largest membership of any Australian expat organization in NYC.
#2  "Every business owner understands that wages and rent are your two largest business expenses:  The Australian Community is a 100% volunteer organization and uses a virtual office model; thereby eliminating both!"
#3  "Kevin, by implementing a private Enterprise Social Network, our members acquisition costs remain the same, but we have now reduced our member retention costs to almost zero."
Now is the perfect time to go for the KO…
"Look at the member services we have unlocked with only 3,700 members in New York, imagine what we could achieve by connecting 10,000 Australians across the US?"
TV loves drama, so with all of the Sharks poised to commit, Mr Wonderful hits us with a question that sends us to the mat…
"If you are a charity, then how do I make money?"
As we lay (figuratively) bleeding on the set's silk rug, Mr Wonderful takes pity, mostly because it has been a while since he tasted a '51 Grange.  Kevin extends an offer to help monetize our organization through a royalty deal to sell our membership data to several Big Box retailers.
We manage to get ourselves up onto one elbow, turn to Mr Wonderful, thank him for the offer, but say that our privacy policy prevents any member data being shared let alone sold to a third party.
At this point Mr Wonderful is out, and the drama continues with each of the Sharks following suit after realizing that there is no way to make money.
[CUT TO COMMERCIAL]
Whilst this hypothetical scenario is entertaining, the reality is that we do not need a Shark for our organization to continue to grow.
Among our 3,700 Australian members, there are a plethora of tech, marketing, branding, finance, design, legal and social media experts, many of them already on board and supporting The Australian Community.
Neither do we need investors, or grants from The Australian Government in exchange for sharing our member database.
The tax deductible donations we can now receive given our status as a 501(c)(3) public charity, along with the occasional raffle, will be more than enough to cover our minimal running costs and the surplus can be used to expand our member services.
Hard as it may seem to believe, we do not need any more members to successfully run our programs.
But what of Australians living in other parts of the US?  Do they not face the same visa, tax, credit and legal challenges that our current members face?  Why should they be denied access to information that has been freely available to members in NYC?
Through our new Yammer portal, our mission to connect Australians through social, professional and charitable initiatives can now be expanded beyond the Greater New York area.
We can now cost effectively reach Australians no matter where they reside in the US, and provide them with access to our knowledge base along with member services such as instant access to US credit and a Member Preferred rate on FOREX.
Further, when they join The Australian Community, their information is kept private.
Call to action:  If you are an Australian citizen living in the US, join The Australian Community.  Our private social network will connect you to our member services, along with access to our knowledge base on overcoming the challenges of living in the US.
You can now communicate and collaborate with other members across the US on a wide variety of social, professional and charitable conversations.